Avon and Somerset: Maddock to look at budget area split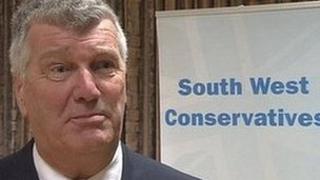 The Conservative candidate for police commissioner has said if he is elected, he will look at the funding balance between rural and city areas.
Ken Maddock said he would have a fresh look at the funding balance between Bristol and Somerset.
Currently 41% of Avon and Somerset Police's budget is spent in Bristol, which has 27% of the force area's population.
The police and crime commissioner (PCC) elections will be held on 15 November.
Mr Maddock said: "There's a wide perception in Somerset that Bristol gets more than its fair share of money.
"I will have a fresh look at this and make sure that we have a balance between the city and rural aspects of this area because a crime is a crime, wherever it has been committed."
'People you know'
The PCC, when elected, will control the police budget and set its policing priorities.
Although some candidates are being put forward under party banners, the PCC will be required to sign an oath of impartiality when taking up office.
Mr Maddock, who is the former leader of Somerset County Council, said although his campaign was partly funded by the Tories, he was not political.
He said although he knows Prime Minister David Cameron and Home Secretary Theresa May, this would not have an impact on his decisions.
"A Conservative commissioner can deal very closely with a Conservative government… and I firmly believe that those contacts can enable me to get a better deal than anybody else can," he said.
"But that ain't politics, that's just people that you know."
He added that if elected, he would invest in technology such as voice and finger print recognition to help make police officers' jobs easier. He would also make the force paper-free.
Also standing in the police elections are Independent Sue Mountstevens, John Savage for Labour and Pete Levy for the Liberal Democrats.