Hannah Macleod given cardboard Olympic medals by hockey players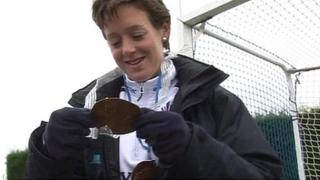 Olympic hockey player Hannah Macleod has been presented with cardboard replica medals by children at her former Cambridgeshire club, to replace her bronze medal stolen in London.
The medal, stolen on Wednesday, was returned anonymously two days later but she did not have it back to show at the coaching session in St Ives on Sunday.
Instead, two cardboard medals were made by youngsters, which she wore.
The Leicester Ladies player said: "I'll keep these ones very safe."
She said it was a "fantastic gesture", and added: "I've got two now - that's better than I had before."
'No sleep'
Macleod said the theft of her medal made her realise how important it was to her.
It was one of two Olympic bronze medals stolen at the Mahiki nightclub in Mayfair, central London, when she and rower Alex Partridge left their jackets unattended.
Earlier the pair had been at a reception with the Queen at Buckingham Palace to celebrate London 2012 athletes.
Macleod said she had been unable to sleep or eat properly since the medal was taken, and was relieved when it was posted anonymously to the England Hockey head office at Bisham Abbey in Buckinghamshire.
"If someone asked me now what an Olympic medal meant to me, I am very, very aware of what it means to me and my family," she said.
"The fact is I haven't been able to bring it here to show all the children I'm coaching. It's a little bit of the Olympics that you carry around with you and share with people.
"My iPhone was taken and my purse as well. I couldn't care less about them - it was that item that just symbolises so much."
Partridge's medal remains missing.
At the weekend he wrote on Twitter: "London Met are following up good leads so if you have the medal make it easy and please just give it back Gb Rowing 6 Lower Mall Hammersmith."
A 31-year-old man arrested in connection with the investigation has been bailed while inquiries continue.