More London Midland trains hit by driver shortage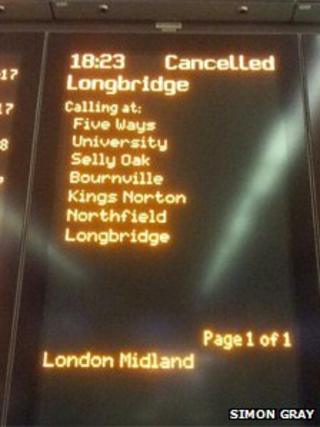 More than 100 London Midland Saturday train services are expected to be hit by an ongoing driver shortage.
The planned cancellations, listed on the firm's website, affect a range of services, mainly in the West Midlands.
More than 60 services were expected to be cancelled, with nearly 40 others starting later or terminating early.
The firm apologised and said it had seen a higher than normal turnover of drivers. A passenger group has called its competence into question.
Lines affected include Birmingham-London, Birmingham-Liverpool, Birmingham-Coventry-Northampton, Lichfield-Birmingham-Redditch and Wolverhampton-Birmingham-Walsall-Rugeley.
A spokeswoman for London Midland said the firm was "really sorry" and was working hard to counter the problem. She said it was making "significant" progress, with flexible working by staff and many drivers working on their days off.
"On Sunday and Monday we expect very few services to be affected, probably about six on each day," she said.
'Open as possible'
The firm, which runs 1,300 services a day, has now cancelled more than 470 trains since 7 October with others disrupted. On Friday, 38 trains were cancelled.
London Midland said the shortfall in qualified train drivers would be addressed by mid-December.
The company plans to list its cancellations every day on its website until 11 December.
The spokeswoman added it was trying to be "as open as possible" and give customers the journey information they needed.
Phil Davis, spokesman for the passenger group Travel Watch West Midlands, said: "The situation seems to be getting worse and it calls into question the competence of London Midland."
Mr Davis, who is also a Labour councillor on Birmingham City Council, said he would be writing in that capacity to the rail regulator.
He encouraged other people and organisations to also complain to the regulator about the "unacceptable" service which was hitting commuters to the city.
"We need a service we can rely on," he said.
The Sunday Politics in the West Midlands will be looking at the London Midland issue in more detail on BBC One at 11:00 GMT on Sunday.