First buses in Devon and Cornwall return after strike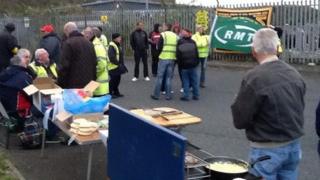 Bus services in Devon and Cornwall are returning to normal after a 24-hour strike by staff over pay.
Hundreds of services operated by First Group were cancelled during the 24-hour stoppage by members of the Rail Maritime and Transport (RMT) union from 00:01 BST to 23:59 on Friday.
The union said members were angry at what it described as First's failure to come up with a "serious pay offer".
First said less than 10% of its bus services operated.
The union rejected an offer of a 7.1% pay rise over two years, of which 3.9% is guaranteed, while a further 3.2% is linked to efficiencies and "business improvements".
Another strike
The firm said drivers in Devon and Cornwall earned about £17,000 as a basic salary with the opportunity to earn "much more through overtime payments".
It said the company had tabled a number of different offers and had been willing to negotiate with the union.
The RMT said First's managers had not been pragmatic enough.
Another strike is planned for 9 November.
Staff would also not work any unscheduled overtime or on rest days on 11 and 17 November, the RMT added.