Luton Museums mystery of 400-year-old rare hat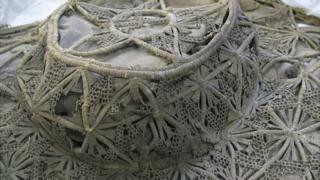 The mystery of a 400-year-old hat found behind the wall of a 17th Century cottage is being investigated by curators at a Bedfordshire museum.
The hat, believed to be one of only five of its kind in the world, was found in the cottage in Essex and given to Luton Culture.
It has gone on display at Wardown Park museum in the town.
Kate John, from Luton Culture, said they believed it was an imported hat and would have been very expensive.
Ms John said the hat, with its low, round crown and big brim would have been worn by ladies in the summer.
Mouse droppings
"It is made of plant fibre and the shape is created from circles of cane," she said.
"It is open work in the style of Tenerife lace and lined with good quality cotton or silk."
When it was found during renovations to the cottage in Wickham Bishops it was in a very dirty state, partly eaten and covered with mouse droppings and dust.
"It made us ask questions about why it was concealed in the house wall," said Ms John.
"It is possible that it could have been smuggled into the country, or stolen and hidden, or perhaps the owner lived in the house and the family sealed the hat in the wall to keep her spirit with them."
The hat was put in what is known as an anoxic chamber where all the oxygen was removed, killing any insects that could have destroyed it.
Curators at the museum are hoping to carry out more research into the house where it was found and to raise money to have the fibres from which it was made investigated.
The four other hats are in collections in New York, Virginia, Hereford and Hatfield House in Hertfordshire.
Veronica Main, significant collections curator for Luton Culture, said: "We are very excited to have acquired this incredible hat.
"Hats from the 1700s are so rare, and this one even more so because of the stories and mysteries it holds.
"This hat may look to most people like it should be thrown away, but to us it is an invaluable addition to our collection of 1,000 significant hats."