Royal Military Police medal ceremony after Afghanistan tour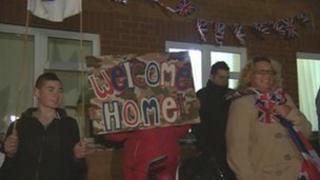 A medal ceremony for soldiers from the Royal Military Police will be held at the National Memorial Arboretum at the weekend.
More than 100 soldiers from the unit returned to their barracks in Telford, Shropshire, on Thursday night after six months in Afghanistan.
Cpl Brent McCarthy, 25, was killed in May by members of the Afghan police force.
He was providing security at a base in the Lashkar Gah area.
Commanding Officer Major Greg Sangster said the tour had been "a hard challenge".
Cpl McCarthy grew up in Telford and went to Lilleshall Primary School, and then Orleton Park School in Wellington.
The medal ceremony will take place at the arboretum in Staffordshire on Sunday.