Chicken roundabout: Plans for statues at Ditchingham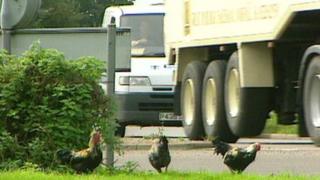 For 60 years dozens of chickens roamed free on a Norfolk roadside, drawing curious glances from passing motorists.
But the last of the brood disappeared from the roundabout in Ditchingham about two years ago.
Now a campaign has begun to create a permanent reminder of the chickens with a series of statues.
Supporters said the idea would "commemorate a piece of history" on what became known locally as "chicken roundabout".
More than 300 people have supported a Facebook campaign, including parish councillors from nearby Bungay.
Village 'folklore'
The chickens had already lived at the site, close to the Norfolk and Suffolk border, for several decades before the A143-B1332 roundabout was built about 30 years ago.
At their height, the roundabout was home to up to 200 chickens and attracted numerous visitors.
The birds were thought to have escaped from nearby allotments decades ago and lived as a colony, surviving on grain from a nearby maltings.
In 2000, Norfolk County Council looked to move the birds on over concerns about road safety but back-tracked after a flurry of protests.
The birds were fed by Bungay resident Gordon Knowles until the last half dozen of the birds were handed in to an animal charity about two years ago.
Numbers had dwindled, with suspicions the birds had been "stolen or harmed" prompting an RSPCA investigation.
Didy Ward, one of those behind the campaign, said: "Chickens had been there even before the roundabout was built.
"Not everyone liked the chickens - residents had concerns about rats and road safety - but many more loved them.
"I think it's a lovely project that has inspired imaginations. There are quite a few hurdles to jump but if chickens were back on the roundabout then it would be wonderful.
"We could legitimately call it chicken roundabout."
Deirdre Shepherd, Bungay town councillor, said she supported the campaign group's plan.
"I think it would be wonderful," she said. "The chickens were known all over the world."
Norfolk County Council said it had spoken to local residents about the plan but added permission would be needed from planners and highways chiefs.