Weapons accused Christopher Tappin to enter guilty plea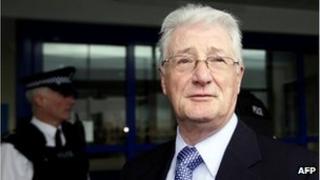 A retired businessman extradited to the US on charges of selling weapons parts to Iran is to change his plea to guilty after reaching a deal with prosecutors.
Christopher Tappin, 65, had always denied trying to sell batteries for surface-to-air missiles, claiming he was the victim of an FBI sting.
The BBC's Alastair Leithead said Mr Tappin would enter a guilty plea when he appears in court next week.
Mr Tappin, from London, was due to go on trial in Texas on 5 November.
His family confirmed a plea bargain.
His wife Elaine Tappin said: "From the moment Chris was put on a plane all we ever wanted was his swift and safe return.
"However upsetting, this is the beginning of that process.
"It would be inappropriate to comment further whilst the court has yet to establish Chris' fate."
'Exporting batteries'
If convicted, the former president of the Kent Golf Society could have faced 35 years in jail.
Mr Tappin was arrested by UK police in 2010 and fought a two-year battle against extradition.
The former director of Surrey-based Brooklands International Freight Services strongly denied the charges, saying he believed he was exporting batteries for the car industry in the Netherlands.
Mr Tappin was eventually flown to the US in February after British judges said the extradition was lawful.
The grandfather-of-one was then held at New Mexico's Otero County detention centre for two months before being released from custody on bail of $1m (£620,000).
His bail conditions required him to wear an electronic tag, to surrender his passport, and to travel only to El Paso and Houston, where he has been staying with one of his lawyers.
Speaking in April, Mr Tappin, of Orpington, south-east London, said: "I'm not a terrorist.
"I've never had any connections with terrorism and I'm just appalled that things could come to this sort of stage - especially in my life now, when I'm 65, been retired for four years and enjoying retirement."
'No surprise'
Karen Todner, Mr Tappin's UK lawyer, who also represented computer hacker Gary McKinnon in his successful fight against extradition, said 98% of people who enter the US justice system enter into a plea agreement.
"The odds are so heavily stacked against a defendant who chooses to plead not guilty and then is subsequently found guilty that the vast majority of people facing trial in the US opt to take a plea agreement," she said.
"Therefore this decision should come as no surprise.
"In addition, the US prosecutor has within his discretion the decision as to whether any custodial sentence can be served in the UK.
"If the US prosecutor declares following a conviction that repatriation should not take place then it is almost impossible to obtain.
"Lastly, the legal fees in defending a case in the US are extremely expensive.
"I hope that following this decision to enter into a plea agreement Mr Tappin will be able to return to the UK as soon as possible to rejoin his family."