Essex MPs unite to urge action on 'neglected' transport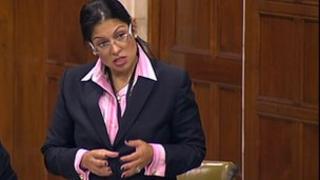 It's probably fair to say that more than anywhere else in the region, travel plays the largest part in the lives of the people of Essex.
It has some of the busiest commuter railway stations in the South East, its roads are packed with freight from the many factories and distribution centres in the county. In addition, there's the Port of Harwich, which generates plenty of traffic, as do airports at Southend and Stansted.
Yet despite all this industry and activity, Essex's MPs think the county is losing out when it comes to transport investment. They are so concerned they called a special debate to push the transport minister to do more.
"All my colleagues know that Essex has suffered from a chronic lack of infrastructure investment over the years," said Witham MP Priti Patel, who had organised the debate. "During the good times Essex was overlooked.
"That neglect has had serious consequences for a county that is growing and growing. Over time, our roads have become more congested and dangerous, and our rail services have become far from ideal."
Growth in Essex
She pointed out that the population of Essex is set to grow by 20% over the next 20 years. More than 60,000 new homes are planned in her constituency alone and yet money for transport isn't following the growth.
"Many of my constituents are paying upwards of £4,000 a year to commute to London and they are subject to the worst delays and a lack of seating, which forces them to stand in horrible conditions," she said.
And when it came to roads, the A12 and A120 needed upgrading while "businesses are gobsmacked, astounded and appalled, to put it politely, by the state of the roads and the congestion near the Dartford crossing". 
Plenty of other MPs waded in: Sir Alan Haselhurst (Saffron Walden) noted that Essex enjoys relative prosperity: "Yet we have, varyingly, either no transport infrastructure worthy of the name or totally inadequate infrastructure."
The county's other parliamentary knight, Sir Bob Russell (Colchester) observed: "On occasions, we in Essex, feel that we have been neglected and forgotten by the Department for Transport." He called for more cycleways and improved bus services.
Harlow MP Robert Halfon renewed his call for a new junction on the M11 to ease congestion in and out of the town, while James Duddridge (Rochford and Southend East) complained that congestion in his constituency was so bad that industrial estates in the west of the town charged 25% more than those in the east, where communications were not so good.
New investment
We've said before that we feel sorry for Transport Minister Norman Baker who has to sit though passionately argued debates like these but is never able to promise that a pet road or rail scheme will get the go ahead. 
He once again assured MPs that "transport is the artery of any economy" and the coalition understood the importance of infrastructure investment. 
He pointed to M25 upgrade work, to recently announced pinch point funding for the A120 and to small but notable rail improvements on the Greater Anglia service. On the Dartford Tunnel, he insisted that congestion would get better - one reason why the tolls there have recently gone up.
But, of course, there were no new announcements. They might come in the autumn statement or the next budget. 
The important thing about this debate was that, perhaps for the first time in many years, a notable number of Essex MPs came together to fight as one. It's a tactic employed effectively by Norfolk and Suffolk MPs.
Perhaps Essex's MPs will find that there is strength in numbers and presenting a united front can pay dividends.