First bus strikes start in Devon and Cornwall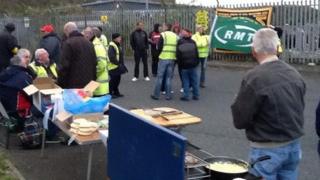 Hundreds of bus services have been cancelled as bus workers in Devon and Cornwall strike over pay.
The Rail Maritime and Transport (RMT) union said members were angry at what it described as First Group's failure to come up with a "serious pay offer".
First Group said less than 10% of its bus services were operating.
The company said it would prioritise contracted school, college and council services, but other services were "expected to be disrupted".
It is updating its website, Twitter and Facebook pages as more information becomes available.
Disrupted services include:
Dartmouth park and ride services
Park and rides buses from Millhouse, The George and Coypool in Plymouth are running every 30 minutes
Some contracted college services are running in Cornwall, but no normal First buses are running in Penzance and Truro
Only school buses are running in Tavistock
No 93 service apart from school buses between Plymouth and Dartmouth
Another strike is planned for 9 November and staff will not work any unscheduled overtime or on rest days on 11 and 17 November.
First employs 675 people in Devon and Cornwall. Of the 300 who took part in the RMT ballot, 85% voted for strike action.
The union rejected an offer of a 7.1% pay rise over two years, of which 3.9% is guaranteed, while a further 3.2% is linked to efficiencies and "business improvements".
The firm said drivers in Devon and Cornwall earned about £17,000 as a basic salary with the opportunity to earn "much more through overtime payments".
It said the company had tabled a number of different offers and had been willing to negotiate with the union.
Chrissie Bainbridge from First Group said: "We are trading in difficult conditions.
"We have had millions of pounds in funding cuts from local government, cost increases and the recession.
"We want trade unions to work with us to make the business stronger in the future rather than undermining those efforts."
Phil Bialyk, regional organiser of the RMT, said: "Our members are on low pay, but they need to be rewarded for what they do.
"I am disappointed management have not been more pragmatic."