International whale hunt ban remembered 30 years later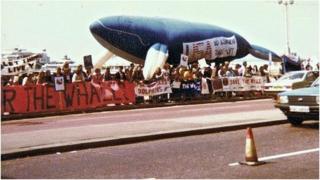 "It was one of the greatest achievements of the environmental movement and has inspired everything since."
Thirty years ago Andy Ottaway was one of dozens of anti-whaling campaigners who lined up outside a hotel in Brighton to hear whether whale hunting was to be banned.
Mounting pressure from campaigners had led the International Whaling Commission to consider the future of the practice at its annual meeting.
And much to the joy of protesters the vote was carried and an international moratorium on whale hunting - effectively a ban - was enacted.
To mark the 30th anniversary a two-day conference, called Whale and Dolphin Watch, is being held at the Hilton Brighton Metropole, where the meeting took place.
'Led to the ban'
Mr Ottaway, from Campaign Whale, said protests against the slaughter of whales reached a climax in 1982 with two Greenpeace boats moored offshore.
"There was a high level of excitement as in those days the commission meeting had met in Brighton for several successive years," he said.
"The previous year the vote came fairly close, and there was speculation that this could be the one. There was excitement, but trepidation."
The vote was passed and Mr Ottaway believes it was the work of campaign groups which swung the tide of international opinion.
"There's no question that the movement to save the whale actually led to to the ban," he said.
"It is one of the clearest cause and effect issue you are likely to see."
Several countries still whale in defiance of the ban or for scientific reasons, including Norway, Iceland and Japan.
Mr Ottaway said the numbers killed have fallen from about 65,000 a year in the 1950s and 1960s, to about 1,500 a year currently.
However, he said smaller aquatic mammals, such as dolphins and porpoises, which are not covered by the ban are still being hunted to destruction.
'Public opposition'
Sheila Burkitt, who is a retired teacher and one of the demonstrators outside the hotel, said the ban was a culmination of years of dedicated protest.
She said: "Each year we hoped it would be banned and then each year we were let down.
"There was such public opposition to the hunt and great camaraderie between the protesters, who were drawn from all sections of society.
"When we found out, it was one of the most memorable moments in my life. Word had filtered out and we all hugged each other, jumping for joy."
A new campaign, called Save the Whale: Reloaded, is being launched on the steps of the hotel later.
It is attempting to keep pressure on the international community to keep the ban in place and encourage countries who still whale, to stop.
"These countries are so proud of their traditions and resent other countries telling them what to do," said Sheila.
"I try to understand it, but there's no excuse for taking these creatures lives."