Richard III dig: MPs discuss cities' claim to bones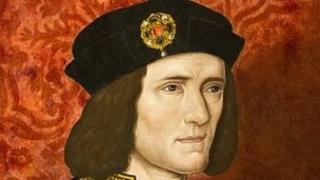 A parliamentary debate has been held on where a skeleton that could be that of Richard III should be interred.
The bones were found in September by archaeologists digging beneath a car park in Leicester.
MPs from Leicester, Nottinghamshire and York discussed a permanent grave but officials said precedent meant Leicester cathedral was favourite.
DNA results on the bones are being compared to that of living descendants of the king, who was killed in 1485.
Richard died at the hands of forces of Henry Tudor near Market Bosworth, Leicestershire.
His grave, in the church of Greyfriars in Leicester, was lost during centuries of redevelopment.
However, the archaeologists from Leicester university have found a skeleton, which is consistent with the known details of his appearance and death.
Campaigners from both York and Leicester have said the remains, should they prove to be the king, ought to come to them.
In the debate, Labour MP John Mann, from Bassetlaw in Nottinghamshire offered Worksop as a halfway point between the two.
But Labour's Jon Ashworth, who represents Leicester South, said: "Given it was the Greyfriars who took the body of Richard and buried him at what was then the Greyfriars' church, a site which is today just a stone's throw from Leicester Cathedral, and he has been in Leicester for 500 years, it would be most appropriate that he is finally laid to rest at Leicester Cathedral."
'Nearest cathedral'
York Central MP, Hugh Bayley, also from Labour said: "He is still very well-regarded in York. We have a museum to Richard III, we respect him enormously.
"But to argue on the floor of this place over his mortal remains is more like medieval cathedrals fighting over saints' relics.
"I don't think it's appropriate."
Tory MP Tony Baldry, answering questions for the Church Commissioners, admitted: "There is quite a lot of competition for this.
"If there is conclusive evidence that these are the remains of Richard III, the tradition is that they would be buried and reinterred at the nearest Christian cathedral, which happens to be Leicester Cathedral.
"In those circumstances, I would hope to arrange a meeting with the Dean of Leicester to see how that could happen."
But he emphasised no final decision had been taken.