Day of the Dead: From Mexico City to London Town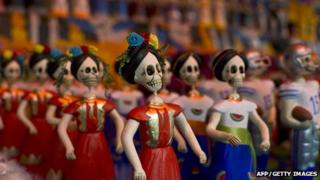 The Day of the Dead celebrates the lives of loved ones who have died while also reminding people about their own mortality.
The festival, which is known as "Dia de Muertos" in Spanish, is traditionally celebrated on November 1 and 2 in Mexico.
Seen as a fusion of Catholic and indigenous cultures, the festival is characterised by altars, visits to graves and celebrations with traditional food and music.
But the festival is no longer only found in Mexico, with festivals cropping up in cities around Britain.
Student groups
To Mexicans the popularity of the Day of the Dead outside their own country is no surprise though - particularly when such festivals are held in the UK.
Although Mexicans do not make up a huge population compared to other ethnic groups in Britain, Mexican students come to the UK every year - there are Mexican societies at about 20 UK universities.
Ariel Moutsatsos-Morales, press and public affairs attache for the Embassy of Mexico in the UK, said the UK was the second most popular choice for Mexican students after the US.
He said the links between the two countries go both ways.
"The interest in Mexico in the UK has always been there but in recent years interest in Mexican cuisine has been growing," he said.
"We've seen 10 different Tex Mex restaurants open in London alone in the last two years and it's now the fastest growing ethnic cuisine in the UK.
"In addition, Virgin Atlantic has opened direct flights to Mexico and about a year and a half ago British Airways also launched direct flights three or four times a week."
He said the flights were in response to people from the UK making up the majority of European tourists to Mexico.
Sporting ties
"British tourists that go to Mexico almost always go back and they always tell someone else they should go," said Mr Moutsatsos-Morales.
He added Mexico and the UK shared similar views on issues such as climate change, education and human rights while both nations also had a love of sports, in particular football.
To mark these cultural and sporting ties the embassy, with Mexican restaurant chain Wahaca, has organised a Day of the Dead Festival at the Old Vic Tunnels, beneath Waterloo Station.
The event, from 31 October to 3 November, features music, food, art and film, with appearances by a number of Mexican artists including musicians Rodrigo y Gabriela who headlined this year's Wilderness Festival.
Lucy Faulks, venue spokeswoman, said: "We'd been talking to them [Wahaca] for a while because we wanted to do something with them and as our venue is very spooky, the Day of the Dead seemed like a good festival to have here.
"Halloween seems to be getting bigger and bigger [in the UK] so I think we like any excuse to celebrate really."
Another new festival in the UK is the Bristol Day of the Dead Music and Artsfest, which took place on 27 October in the Bristol Amphitheatre.
Speaking before the festival, Daryn Carter, director of We Are Fest, which organised the event, said: "It's something that's taken off and people are getting into it more and more.
"We've organised other events in the city and people were always asking me 'can you organise a Day of the Dead festival?'
"When you talk to some people they say 'oh that's a bit morbid' but when you explain that it's a celebration which can help children and anyone who has lost a loved one, then they get it."
He said Bristol had a big Spanish population and a growing Mexican community - a Mexican shop was opened this year as a result.
"People have seen these events in London and they've seen the impact of visitors from Spain and Latin America.
Narco-violence
"It's also a good time because it's close to Halloween and normally nothing happens in the city between the summer festivals and Christmas so people are really excited about it.
Prof Clare Mar-Molinero, director of the centre for Mexico-Southampton Collaboration at the University of Southampton, is one of the organisers of the annual Mexico Week at the university.
The event celebrates the links that have been developed between the UK and Mexico through student and tutor exchanges.
She said: "There is a lot of interest in Mexican culture and that's come from lots of sources - Frida Kahlo, films and more people going there for their holidays.
"We're trying to have a mix of the traditional and the avant garde - its good to show people that aside from the narco-violence there is a positive side to the country."