Super-rats 'spreading to Henley', says university survey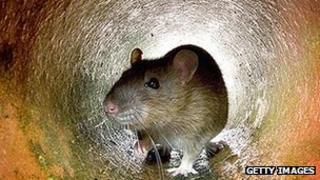 Super-rats which are more resistant to poisons than their common cousins are spreading into south Oxfordshire, a university survey has found.
The mutant rodents have long been found in parts of Berkshire and Hampshire but have been moving north into the Wallingford and Henley areas.
Pest controller Graham Chapel wants to be able to use stronger poisons after staff are trained extensively.
But wildlife groups are worried animals that then eat dead rats will be harmed.
Law change
The Health and Safety Executive is currently consulting on an EU proposal to allow limited outdoor use of certain chemicals in pest control.
The survey, led by University of Reading academic Dr Alan Buckle, tested tails of rodents to see where the mutant variations were living.
"It looks like the rats are spreading and they have got into the southern part of Oxfordshire," Dr Buckle said.
"We've had some rules in the UK which means there are two types of poisons we can use but they have developed resistance to these types."
He said he believes a change in the law to allow more potent poisons could be on the way.
Mr Chapel, from Rapid Pest Control, wants to be able to use stronger poisons outside.
'Trap and shoot'
"I would say yes without question, but there has to be a lot of training and big restrictions for their use," he added.
But David Ramsden, head of conservation at the Barn Owl Trust, said: "The fact is they poison and kill wildlife.
"If you had to guess the proportion of barn owls that contain these poisons most people would think... maybe 10%, but government figures says 91% of barn owls in Britain contain these poisons."
Cathy Rose, from the Chilterns Conservation Board, also said Red Kites feed on dead rats and can be affected by the poisons.
"There are other options, we can still trap and shoot rats and make sure the areas they are infesting are as clean as possible," she said.