First bus strikes to go ahead in Devon and Cornwall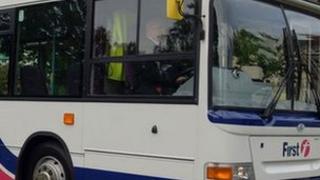 Bus workers in Devon and Cornwall are to take part in two days of strike action and a two-day overtime ban in a dispute over pay, a union says.
The Rail Maritime and Transport (RMT) union confirmed on Thursday that strike action would be held on 26 October and 9 November.
First Group members would also not work any unscheduled overtime or on rest days on 11 and 17 November, it added.
First Devon and Cornwall said it was "incredibly disappointed" by the move.
The union said members were angry at what it described as First Group's failure to come up with a "serious pay offer".
Unions rejected a 7.1% pay deal.
First employs about 500 people in Devon and Cornwall. Of the 300 who took part in the RMT ballot, 85% voted for strike action.
RMT General Secretary Bob Crow described the vote as a "massive mandate for action".
First Devon and Cornwall said it believed the action was "very selfish".
It said: "With many people out of work and other facing pay freezes and tougher times, we are very disappointed that the union representing our drivers and engineers has turned down a two-year pay deal."
The company said it would prioritise contracted school, college and council services, but added that all other services were "expected to be disrupted".