Baroness Newlove hopes PCC will tackle 'silent killer'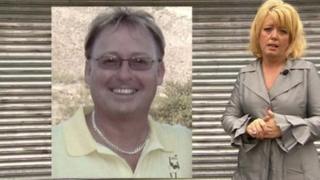 The murder of Garry Newlove - kicked to death for confronting a drunken gang outside his Cheshire home - shocked the country and threw the spotlight on to the growing problem of anti-social behaviour.
Since his death in Warrington in 2007, his wife Helen has campaigned for local authorities and police to work together to help residents plagued by intimidation and criminal damage, and put a stop to what she describes as a "silent killer".
Now a baroness and the government's Champion for Active, Safer Communities, she is hoping the new police and crime commissioner (PCC) role will be a "massive step forward in helping the police do their best for victims".
For the first time in England and Wales, people will have the chance to vote for who they want to lead their police force on 15 November.
Baroness Newlove told the House of Lords in a debate earlier this month she hopes PCCs will "restore the trust" of victims in police forces, adding: "For the very first time victims of crime have a clear role in determining what the police should focus on and how.
'Lives being lost'
"At the moment, although crime is down perception is very high. I would say to PCCs - they are not interested in what colour party you come from, they want to feel safe in their streets.
"We need to know we have a PCC we can go to. Policing has to be accountable, lives are being lost and blighted."
As a rural area, Cheshire has less anti-social behaviour than other forces, with 45,304 incidents reported in the past year.
A report into its response to anti-social behaviour published by HM Inspectorate of Constabulary (HMIC) in June found systems are improving but there was still "little evidence of sharing best practice across the force, and no system in place to consistently flag up to staff who are responding to a call if it relates to a local priority".
Anne Groves, secretary of the Sankey Bridges Residents Association, said some residents were still experiencing anti-social behaviour, but there were no easy solutions.
"Some older ladies don't go out at night, they feel intimidated by groups of youths, but if you moved them it would just move the problem to another area.
"At the moment they tell us about problems and we pass their concerns to a PCSO who might patrol there but then the problem comes back again. I hope PCCs can make a difference."
'Nightmare neighbours'
With a renewed focus on behaviour that was, prior to Mr Newlove's death, sometimes dismissed as "nuisance", Home Secretary Theresa May told Parliament in May of plans to "introduce faster and more effective powers to stop the dangerous and yobbish behaviour of those who make victims' lives a misery".
These are expected to include a new court order to replace the Asbo, a new civil injunction that would immediately protect victims and communities and simpler powers to close premises that are a magnet for trouble.
The government also promised to help speed up the eviction of "nightmare neighbours", which came into effect in Warrington with the reported eviction of two brothers who subjected residents to a "living hell" earlier this month.
When PCCs take up their posts they will have the power to draw up a list of punishment options for victims of crime to choose for perpetrators who are sentenced by a court to community punishment, under a scheme called Community Remedy.
Chester Conservative MP Stephen Mosley said of the scheme: "These punishments could be restorative or punitive, carried out nearby or as far away as possible but all the punishments will have one thing in common - they will be chosen by the victim."
The Home Office said reducing anti-social behaviour was a "key priority" for government and PCCs will be able to "push local priorities to prevent it from being relegated to a second-tier issue".
Baroness Newlove told the Lords reforms must be brought in alongside the PCCs, adding: "You are made to feel vulnerable, you are made to think it's in your mind, you have no solutions, you have nobody that comes on your door.
"It's a silent killer when nobody gives you the answer, when you suffer daily intimidation, criminal damage to property you work damn hard to keep nice.
"When you go to police meetings constantly to say you have problems on your street, we don't see the chief constables, we see the messenger.
"I did say as I walked back from a community meeting, nothing will be changed until somebody was murdered. Sadly that was my late husband, Garry."