Avon and Somerset: Labour PCC has frontline policing pledge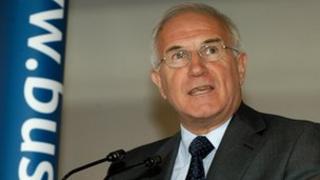 Frontline policing will be protected, the Labour candidate for the police and crime commissioner role has pledged.
John Savage has said his experience of managing big budgets would help him achieve this election promise.
He said: "People will have to choose between those who make hollow promises and someone who understands big budgets and those who just want to get elected - I want to do the job."
The police elections for Avon and Somerset will be held on 15 November.
"We have to find a way to supply the service the public needs - we can't have the public abandoned, it's not on.
"I promise I'll find a way to avoid cuts to frontline policing," added Mr Savage.
As chairman of the Bristol Hospitals Trust, Mr Savage's responsibilities include managing a multi-million budget.
He was also in charge of a £1bn Learning and Skills Council budget for the south west.
He said: "The crucial element of this proposition is that it's a great opportunity for me to open up policing to the public and the big part of the job is making connections with the public and work out how to respond appropriately to those.
"The other big part is being able to take the challenges that come with those requirements and taking those back to Whitehall and Westminster."
Also standing in the police elections are Independent Sue Mountstevens, Pete Levy for the Liberal Democrats and Ken Maddock for the Conservatives.