Cameron pledge after soldier's baby denied compensation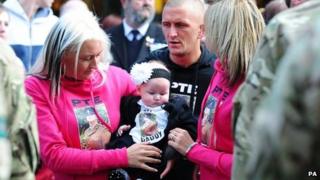 David Cameron has pledged to tackle the case of a baby girl denied compensation because her father was killed in Afghanistan before she was born.
Military bosses refused to pay out as they said it could not be proven that Pte Daniel Wade, from Warrington, Cheshire, was Lexie-Mai's father.
Pte Wade and Lexie-Mai's mother Emma Hickman were engaged when he died alongside five comrades in March.
The prime minister said the case was a "dreadful situation".
Ms Hickman said: "Daniel never got to meet Lexie-Mai and sadly he won't experience the joy of watching her grow up. It has been a long, hard journey to recognise Daniel as Lexie's father."
She added: "All I've ever asked is for the MoD to co-operate with me so that Lexie can grow up proud of her dad. That is what Daniel would have wanted."
Mr Cameron said the compensation row "could not be allowed to continue", adding: "We have to move quickly and get this sorted."
Pte Wade, 20, of 3rd Battalion, the Yorkshire Regiment, was killed on 6 March alongside Pte Anthony Frampton, 20, Pte Christopher Kershaw, 19, Cpl Jake Hartley, 20, and Pte Daniel Wilford, 21, all also of 3 Yorks, and Sgt Nigel Coupe, 33, of 1st Battalion The Duke of Lancaster's Regiment.
The soldiers had only been in Afghanistan a few weeks when their Warrior armoured vehicle was blown up by a massive improvised explosive device about 25 miles north of the capital of Helmand province, Lashkar Gah.
Three months later, Ms Hickman, 19, gave birth to Lexie-Mai.
Speaking at Prime Minister's Questions, Conservative David Mowat, MP for Warrington South, said a legal wrangle meant Lexie-Mai would not receive cash.
He told the Commons: "The Army will not accept paternity without evidence, nor will they release the DNA without a court order.
"As a consequence, Lexie-Mai received nothing."
He urged the prime minister to "help expedite" the case and consider ordering the Army to routinely hold DNA on soldiers, as happens in the US.
Mr Cameron said he would "certainly look at" the measure, but added: "It does raise some complicated legal issues."