London Midland train cancellations: Rail minister issues warning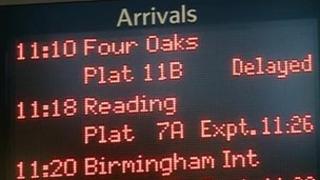 Rail Minister Norman Baker has warned train firm London Midland about its performance, after further cancellations of services.
Mr Baker said commuters, who have faced weeks of disruption, were not "getting the services they need".
More than 60 services were affected on Tuesday, prompting Marcus Jones, Conservative MP for Nuneaton, to say the situation was unacceptable.
Mr Baker said he would be closely monitoring the firm's performance.
Most of the services affected are to and from Birmingham, but the problems have affected other destinations on the London Midland network.
There is a full list of affected services on Tuesday on the London Midland website.
Fourteen services between Nuneaton and Coventry were cancelled on Tuesday. Mr Jones warned that commuters would turn to other ways to travel.
Richard Burden, Labour MP for Longbridge, Birmingham, tabled a written parliamentary question on Monday asking the transport secretary to make a statement on the cancellations.
Mr Baker said he had spoken to the firm's managing director to "discuss how performance can be improved".
He said in a statement: "As with other franchises, London Midland is required to meet stringent benchmarks relating to their performance and I will be monitoring this extremely closely to ensure that normal services are resumed as a matter of absolute priority."
London Midland has blamed the disruption on a shortage of drivers, but said it was addressing the problem.
The company apologised to passengers and said it would provide road transport where necessary.
It has said the shortfall in qualified train drivers would be addressed by mid-December.
Up to 30 services were cancelled by the company on Monday and Saturday.