Stephen Farrow murder trial: Accused's 'rape fantasies'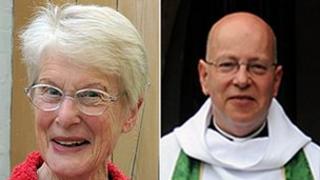 A man accused of the murders of a vicar and a retired teacher was a "very dark" person who fantasised about bestiality and raping girls, a court has heard.
Stephen Farrow denies murdering Betty Yates, 77, and the Rev John Suddards, but admits the vicar's manslaughter.
Bristol Crown Court heard he had been an "uncontrollable child" who shot dead a swan and killed people's pets.
Dr Tim Rogers, a consultant forensic psychiatrist, said he demonstrated many of the characteristics of a psychopath.
"There is no doubt in my mind that he passes the threshold for a diagnosis of psychopathy," he said.
Mr Suddards, 59, was found dead at his vicarage in Thornbury, near Bristol, in February. Mrs Yates was found dead at her home in Worcestershire in January.
Farrow's barrister, Peter Gower QC, told the jury his mother had "understood there to be something wrong with him as a child".
The court was told when he was 10 he had set fire to a church altar and stood and watched as it burned. As a child he had also experienced bullying, fighting, using weapons and robbery.
'Not insane'
During cross-examination by Michael Fitton QC, prosecuting, Dr Rogers said he did not believe Farrow to be mentally ill.
"If I understand your evidence correctly, it is that he has a long-standing personality disorder, but that he is not insane?" Mr Fitton said. "Yes," Dr Rogers replied.
"Our case is that he was fully conscious and aware of what he was doing to Reverend Suddards," Mr Fitton said. "Yes," Dr Rogers said.
Dr Rogers told the court: "What we do know about psychopaths and psychopathy is that they lack the behavioural controls that other people do.
"They are compulsive, they don't have empathy that other healthy people do. What I am trying to get across is the coldness and callousness."
Farrow, 48, of no fixed address, was not present in court having refused to leave Long Lartin prison in Worcestershire where he is being held.
The trial continues.