What price village schools in funding shake-up?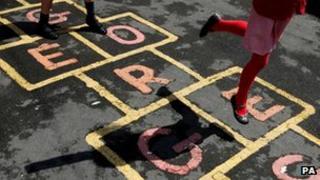 Picture the beautiful village of Ipstones with its dry stone walls and weathered houses perched high above the market town of Leek, way up in the Staffordshire Moorlands.
At the heart of one of the Midlands' remotest communities St Leonard's First School has been educating local youngsters for many generations. But now it has just 38 pupils and there are deepening fears about what the future may hold under the government's planned shake-up in school funding.
A renowned beauty spot, it looks very much like the proverbial cliff off which villagers believe their school's budgets may be about to fall.
Under the government's current funding arrangements, small schools in rural areas qualify for an extra "top-up" to assist them with what is technically known as "sparsity".
This is the extra costs associated with educating small numbers of children in far-flung communities where there are no economies of scale and local school services become increasingly specialised.
Under the new grant funding regime, that "top-up" would be a replaced by flat payments right across a local authority area which small schools fear could make them proportionately worse off compared with bigger ones in larger communities.
The government promises a minimum funding guarantee which they say will protect smaller schools at least until after the next General Election and so ease fears they might fall into that apocryphal abyss.
Exactly this same anxiety extends to other shire counties, far beyond the Staffordshire Moorlands.
West Worcestershire's Conservative MP Harriett Baldwin called a Westminster Hall debate highlighting protests by village school heads and governors from right across a county which has long complained it's one of the worst-funded in England.
We will be featuring that debate in this weekend's Sunday Politics programme from 11:00 GMT on BBC One this Sunday, 28 October 2012.
BBC Radio Stoke's Political Reporter Phil McCann will also be comparing and contrasting the fortunes of St Leonard's School at Ipstones and Leek High School just down the road, which is 12 times bigger.