Avon and Somerset: Hopes for new PCC to tackle rural crime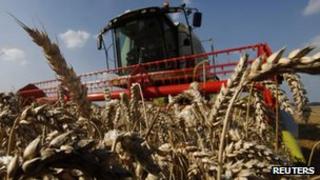 A businessman and a farming group talk about their fears and frustrations over policing rural areas ahead of the police elections.
Crime in the Avon and Somerset force area has fallen by 30% over the past five years and detection rates doubled to 30% since 2002.
But despite these successes, there is a lack of optimism among some residents and businesses in parts of Somerset over rural crime.
Avon and Somerset Police have said 85% of victims of crime across Avon and Somerset feel satisfied with the way their crime was dealt with by the police.
'Vandalism and arson'
B and Y Engineering and other businesses on an industrial estate in Somerton have suffered from repeated break-ins. Burglars at B and Y made off with about £27,000 of equipment.
Managing director at B and Y, Harry Buckle, said: "In the first instance, the police couldn't find the address, it took them about 30 minutes to get here and within three weeks they told me the case had closed on account of no evidence.
"Continuously there are robberies on the estate, right up until last Saturday when neighbours on the estate lost £10,000 of horticultural equipment."
Mr Buckle believes police presence should be improved to curb the rise in crime.
"I don't think the crimes are opportunistic at all - I think they know precisely what they are doing.
"I think they are well-organised, I think they've come and looked at premises before and they know they won't get caught."
'Vandalism and arson'
He is sceptical about the new PCC role, believing it to be "too remote and too ineffectual".
And Mr Buckle's fears are shared by others.
According to the National Farmers' Union there is a repeated problem of vandalism and arson on farms.
Business partner and agent at the National Farmers' Union in Bridgwater, Naomi Parker, added: "Undoubtedly the focus is going to be on urban areas, and rural areas are going to be missed as they are in many cases already.
"I hear a lot of that echoed in the farming community, that it takes an awful lot of time once they've reported a crime for the police to come out and investigate."
Some people in towns such as Langport and Martock have also reported slow response times and low police presence.
Avon and Somerset Police have answered criticisms of slow response times and a lack of resources for rural areas.
The police authority has said about 40% of the police budget in 2012-13 was spent on Bristol (£51m out of the £130m budget), with the rest shared out among other police districts.
Supt Mike Prior said: "I can understand people do feel isolated, but we're [conscious] of that and we're very aware of the type of crimes that people might face in terms of a rural setting.
"We've put a lot responses into that... so I refute we're not doing enough in terms of tackling crime in rural areas."
As the police budget is set to be cut further under the government's austerity measures, balancing the urban and rural needs for the force area will add to the challenges for the new PCC.