Cobra Seats factory metal theft arrest made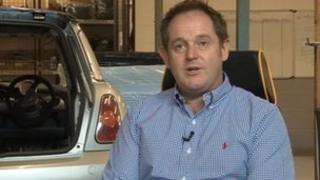 A Coventry man has been arrested by police investigating a metal component theft at a Telford manufacturing firm.
Thieves stole about 4,000 metal items from Cobra Seats on 14 October.
Managing director Mark Dunsford said the theft would cost the firm thousands of pounds and 24 employees faced a reduction in hours until the new year.
West Midlands Police said the 20-year-old man was arrested in Telford. He has since been bailed until a date in November.
The factory makes seats used in the World Rally Championship as well as for dugouts at Premier League football club stadiums.
Police said that theft had put about £400,000 of production at risk.
Det Insp Gordon Roberts, from West Midlands regional metal theft taskforce, which is helping West Mercia Police in its investigation, said: "We received a great response to the appeal in local media and, after local inquiries, police in Telford were able to identify the vehicle involved.
"Further inquiries led officers to locate the scrapyard, in Dudley, where the stolen components are believed to have been sold on for just £760, a fraction of what the parts were worth to Cobra.
"Unfortunately the parts have not been recovered."