London Midland train cancellations 'unacceptable' says MP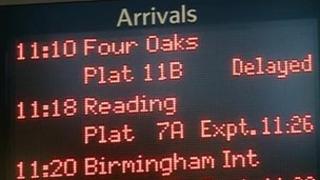 Cancellations and alterations to more than 60 London Midland trains have been condemned as "completely unacceptable" by an MP.
Marcus Jones, Conservative MP for Nuneaton, Warwickshire, said commuters would "look to other ways of travel".
London Midland has blamed weeks of disruption on a shortage of drivers, but said it was addressing the problem.
There is a full list of the affected services on Tuesday on the London Midland website.
London Midland cancelled 14 services between Nuneaton and Coventry on Tuesday.
Road transport
Mr Jones said he was seeking "an urgent meeting" with the rail minister to see what can be done.
Richard Burden, Labour MP for Longbridge, Birmingham, tabled a written parliamentary question on Monday asking the transport secretary to make a statement on the cancellations.
Mr Burden said he wanted to know if the "lack of long-term thinking and planning" have something to do with the fact that London Midland's franchise is due to end in 2015.
The company apologised to passengers and said it would provide road transport where necessary.
It has said the shortfall in qualified train drivers would be addressed by mid-December.
The driver's union Aslef said it was "sympathetic" over the problems being faced by London Midland.
Voluntary overtime
General Secretary Mick Whelan said the driver shortage had been caused by a number of factors including a competitor in the area offering higher salaries.
He said that voluntary overtime by existing drivers could "only go so far" towards dealing with the shortfall.
Some trains on the line between London Euston and Birmingham have been cancelled and others are beginning or ending their journeys at different stations.
There are also delays and cancellations on the Birmingham-Coventry-Northampton, Lichfield-Birmingham-Redditch, Coventry-Nuneaton and Wolverhampton-Birmingham-Walsall/Rugeley routes.
Services from Birmingham Snow Hill station are also affected.
Up to 30 services were cancelled by the company on Monday and Saturday.