Devon and Cornwall in 'shortage' of emergency doctors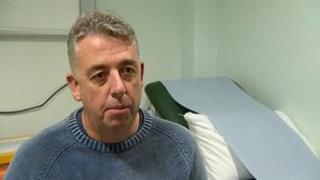 A medical consultant specialising in emergency care has said there is a shortage of A&E doctors in Devon and Cornwall.
Dr Clifford Mann, of the College of Emergency Medicine (CEM), said less than 50% of training places had been taken up in two years.
He said: "That's the equivalent of losing one whole year of trainees."
The General Medical Council said it was working with the CEM to "address these issues".
Dr Mann, who is based at Musgrove Park Hospital in Somerset, said: "For two years running we've had only 50% people that we expected to be training in emergency medicine."
He said gaps in rotas were having to be filled by staff working overtime, or by drafting in locums who were expensive to employ.
He said: "Whilst most people would be happy to [work overtime] for weeks, months, maybe even one or two years, the idea that you might do that as a career plan for the next 35 years is not attractive.
"That exacerbates the problem that people don't want to apply to do emergency medicine."
'Struggling to recruit'
Dr Andy Virr, consultant in emergency medicine at the Royal Cornwall Hospital, said the hospital found it difficult to recruit registrars.
He said: "We have two vacancies which we're struggling to recruit into.
"Patients come in all hours of the day, particularly in the unsocial hours, and for some people that doesn't work with their lifestyle."
The Northern Devon Hospital in Barnstaple said it had a shortage of registrars and relied on locums, while Plymouth Hospitals NHS Trust said it was "actively recruiting" trainee doctors and consultants.
The Royal Devon and Exeter Hospital said it had taken action to address the shortfall and was currently recruiting for three positions which were being filled by locum doctors.
In a statement, the Department of Health said: "It's of vital importance that emergency departments have the right staff, and the number of consultant emergency doctors has increased by over 50% in the last five years."
It added that in recent years more patients with minor injuries were being treated by GPs and emergency nurse practitioners.