500 NHS mental health jobs could go in Suffolk and Norfolk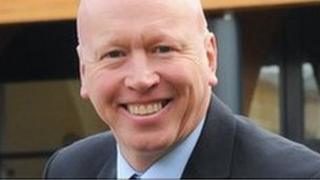 Up to 500 jobs could be lost under plans being considered by Norfolk and Suffolk's mental health trust.
The Norfolk and Suffolk NHS Foundation Trust has drawn up proposals to cut about £40m from its budget over the next four years, a 5% annual saving.
The trust said it was confident savings could be made without any compulsory redundancies.
Bob Blizzard, former Labour MP for Waveney, said the cuts would have a "devastating effect".
On Monday, staff were told about the proposals which the trust said were "designed to protect healthcare services over the next four years".
Chief executive Aidan Thomas said: "It is important that our staff were the first to hear of these plans because we will need them to work differently in the future as we bring in new services and become less reliant on others.
Hospital bed cuts
"We will see a reduction in the number of posts we have over the next four years, but because of careful vacancy management and natural turnover, as people leave or retire, we hope to bring this about without compulsory redundancies."
The number of hospital beds could fall by 20% under the proposals, as the trust looks to treat more patients in the community.
The way patients are referred to the trust by GPs would be "streamlined" to prevent them being "bounced around", a spokesperson said.
Mr Thomas added: "If we reduce multiple assessments and work effectively with social care support then we will be able to provide people with some real alternatives to hospital admission."
An internal staff consultation period runs until the end of January.
Mr Blizzard, who is Labour's prospective parliamentary candidate for Waveney, said: "I know this is being forced on the trust by the government demand for a 20% reduction in their budget, but it is the patients who will suffer most.
"I don't think you can take out 500 jobs from a compliment of 3,000 odd without there being an effect on services.
"I know already that the services are under pressure - this will only make things worse."