Stephen Farrow murder trial: Vicar told to 'die and hurry up'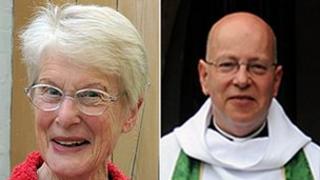 A vicar who was found stabbed to death at his home was told to "die and hurry up", a court has heard.
Stephen Farrow denies murdering Betty Yates, 77, and the Rev John Suddards, but admits the vicar's manslaughter.
Mr Suddards, 59, was found dead at his vicarage in Thornbury, near Bristol, in February. Mrs Yates was found dead at her home in Worcestershire in January.
A psychiatrist told Bristol Crown Court Farrow had described to him the killing of the vicar in graphic detail.
'Inner voices'
Dr Tim Rogers, a consultant psychiatrist, said he had assessed Farrow on two occasions and that he had a personality disorder.
He said this disorder meant Farrow was suffering from an abnormality of mental function at the time of killing Mr Suddards.
Dr Rogers said Farrow told him he had bolted himself in a hut for three or four days smoking cannabis, which made him more paranoid, and that the killing happened on Farrow's fourth visit to the vicarage.
Reading from his notes in court, he said Farrow told him: "It was there in my head. I spent five days preparing when to go, what buses to catch.
"It was a Monday and I arrived in Thornbury at exactly the time I thought.
"I knew that the reverend was in at the time and the reverend had opened the door."
Dr Rogers also said that Farrow was hearing "inner voices" and had accused the vicar of abusing him.
'Fantasy or premonition'
"He said he had made a mistake of what he had intended to say," he said.
"What he had intended to say: 'Instead of having abused me, people like you have abused people like me'."
Farrow told Dr Rogers: "I watched a man die - I have never seen that before - life ebbing away.
"It was always like it was meant to happen. He didn't fight, argue or nothing.
"My head wasn't there. I kicked the reverend to keep him down."
Dr Rogers said Farrow told him he had stabbed the vicar to keep him down and then told him to "die and hurry up".
"Mr Farrow said it was always his intention of fulfilling his fantasy or premonition, except for one aspect - of crucifying the reverend to the floor," he said.
"He told me that he had the tools but he didn't do this," added Dr Rogers.
The court also heard how Farrow had watched DVDs and drank beer after Mr Suddards died.
Dr Rogers added that Farrow had all the "hallmarks of a psychopath".
"I find that abnormal in the extreme that anyone could do what they had done and sit in that person's home and behave in an entirely calm way," he said.
The trial continues.