Victim support pledge by Conservative PCC candidate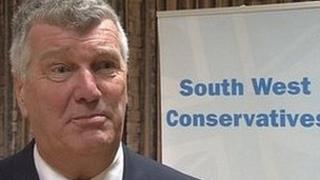 Victim support should be at the heart of policing, Ken Maddock, the Conservative candidate for the Avon and Somerset police elections has said.
Mr Maddock is ex leader of two Somerset councils and has also worked in retail clothing for more than 20 years.
He said: "We can shorten the time it takes from a crime being committed to the sentence being given out - it currently takes more than five months."
The police and crime commissioner (PCC) elections will be held on 15 November.
'Grief and pain'
The PCC, when elected, will control the police budget and set its policing priorities.
But the new role will not have any powers over the courts and legal system which are independent.
Although candidates are being put forward under party banners, the PCC will be required to sign an oath of impartiality when they take up office.
Mr Maddock said: "When a guilty verdict is decided upon, before a sentence is issued, we can make sure that all the judges in appropriate cases read a victim impact statement.
"That's not done as a matter of course and they need to know what an impact that has had on the victims, how much grief and pain is put into their lives."
The Tory candidate has also pledged, along with other candidates, to claw back £20m from the government for Avon and Somerset.
'Fairer and faster'
Currently the force loses about £20m every year in the "damping" process where money is taken away and given to other forces based on the level of need.
Mr Maddock has also said he will invest in the police force to make it "paperless".
He said: "I've gone paperless - and I don't see why the police can't either - why can't they use head-cams, have voice recognition, fingerprint recognition?
"We need to be careful with it, but it doesn't mean we shouldn't do it, it's fairer and faster justice."
Also standing in the police elections are Independent Sue Mountstevens, John Savage for Labour and Pete Levy for the Liberal Democrats.