Paedophile William Goad 'never paid out' to victim Ray Zolla
By Beth Rose
BBC News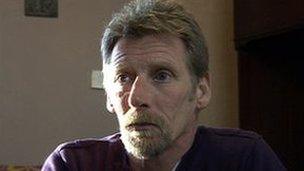 A man from Cornwall who was awarded a six-figure sum after being abused by paedophile William Goad has said he is yet to receive any money.
Ray Zolla, from Newquay, was awarded damages in 2010 after being abused by Goad as a teenager in the 1970s.
He said Goad had hidden his assets and blocked his solicitor's attempts "at every twist and turn" to get the money.
Goad, from Plymouth, was convicted of 14 sex offences and two indecent assaults. He died on Saturday.
During the 2004 criminal court case, Goad, who is believed to have been a millionaire, was described as a "voracious, calculating, predatory and violent homosexual paedophile".
It was believed he had abused up to 3,500 boys over a 35-year period starting in 1965.
But Goad, who died in Albany prison aged 68, denied allegations of abuse made by Mr Zolla forcing him to pursue the paedophile through the civil court in 2010.
Mr Zolla, 49, said: "We're still trying to get the money. He's hidden a lot of his assets over the years, offloaded a lot of money and transferred shares.
"He used to block us at every twist and turn. But it should make it easier to find the money because he's not there to block us anymore.
"If his assets can be found then they should be given out equally to all the victims."
Goad, who owned a string of discount shops and market stalls, groomed his victims by offering them jobs and then inviting them back to his home.
Mr Zolla's solicitor, Kate Maynard, said she had been pursuing Goad's money for two years.
She said: "We believe that when he went on the run and while the criminal investigation was under way he systematically went about hiding his assets because he anticipated his victims coming after him."
Ms Maynard said Goad had gone to Thailand for several years returning to the UK regularly on a false passport. It was on one of these return trips that police were waiting at the airport to arrest him.
Ms Maynard added: "He made himself bankrupt about the time of Ray's judgement and so the experts in bankruptcy are looking for his assets.
"Even though he's dead we will certainly continue to pursue it."
Mr Zolla was abused for 18 months during the 1970s while he was a teenager, only speaking out 20 years later when he was undergoing counselling for drugs abuse.
But Goad denied the allegations in court and the charge remained on file forcing Mr Zolla to go through the civil courts.
Mr Zolla said: "I never did it for the money, I did it to get justice. It nearly destroyed me, but I was not going to be defeated.
"Standing in the dock against him was the most empowering thing I could do.
"It finally brought my voice into the room and not just in a written statement but face-to-face, because he deserved the humiliation."
Learning of Goad's death on Saturday, Mr Zolla said he felt "relief, joy, jubilation and total closure".
He said: "I'm happy in the fact that he died where he did and that he's not going to be a threat to the community anymore.
"Unfortunately we will still carry the pain but we can take re-assurance that he can't hurt anyone ever again.
"I'm actually quite happy that a higher justice has been served."
Despite the months of abuse and the subsequent battles through both the criminal and civil courts Mr Zolla says he has moved on.
"Life has changed. I got re-married and things are going really well.
"I'm about to celebrate my first anniversary and live a normal life with a good family around me.
"A lot of things have improved since that conviction."