Can police commissioners really help victims of crime?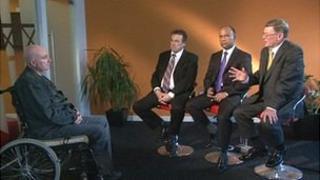 Whoever is elected as a new police and crime commissioner next month will be told to put victims of crime at the heart of their plans.
The government says commissioners must consult victims, their relatives and representatives on how they police their patch.
But words are cheap.
For years, politicians have been promising to put victims of crime at the centre of the justice system.
So can the new commissioners really deliver?
Decade of abuse
To test the theory, BBC's Sunday Politics brought three of the candidates for Cleveland's commissioner face to face with victims of crime and community representatives.
Ron Carter Bonsteel certainly knows how it feels to cope with crime.
His family has endured a decade of abuse in Middlesbrough. After standing up to local vandals and drug dealers, his home has been petrol bombed and he has been forced to move.
To date, nobody has been prosecuted for the abuse he's suffered.
Could the potential commissioners offer him any hope?
All three were certainly sympathetic, and prepared to talk tough.
Conservative candidate Ken Lupton said: "As a commissioner, I just wouldn't accept that criminal behaviour continuing.
"It is the Chief Constable's responsibility operationally to actually prevent it happening and take people through the justice system, but we have got to take action to stop it."
Independent Sultan Alam said there was a need for a change of emphasis.
He added: "We need to start looking at crime figures as victim figures. If instead of saying 41,000 crimes, you talk about 41,000 victims, that changes the thought process.
"Protecting victims would be at the very centre of what I would do as commissioner."
And Labour's Barry Coppinger also promised action.
He said: "If I'm elected, I will be out there with the public, with the police on the street.
"We would work together to tackle the problems and ensure the criminals are the vulnerable minority and not the community."
Domestic violence
And the sympathetic noises continued.
Lindy O'Hare was a victim of domestic and sexual violence and now runs a charity supporting abused women in Redcar.
But SODA (Survivors of Domestic Abuse) has been badly affected by cuts. It'll have to close in December if it can't find new funds.
The three candidates again made clear their commitment to Lindy's cause, but stopped short of saying they'd find the money to fund the charity.
Linda Fleetham also runs a community organisation in Teesside. But South Bank Tomorrow had its offices burnt down by vandals four years ago.
It's found new premises, but crime remains a problem in the community - so much so that she says some people have stopped reporting it because it's just too much effort.
All the candidates were clear that they would ensure people got an early police response to their calls to make sure they were motivated to report crime.
The candidates also faced questions on drug and alcohol abuse from Tina Williams, who runs a family support group in Stockton, and questions about help for young people from Alex Sedgwick, who works at a community centre in Hartlepool.
Tough on criminals
If I'm honest, although all three candidates gave a good account of themselves, it was hard to see much difference between them on the basis of this hustings.
Victims would be at the heart of all their policies: they all promised to be tough on criminals, and all would listen to communities.
So what did their inquisitors make of the candidates, and the whole idea of commissioners?
Ron Carter Bonsteel, for one, was not convinced that commissioners can make much difference for victims.
He said: "If the Cleveland police authority couldn't do it, I can't see how one person can do it for such a large area. It's all a bit American but without their stronger sentences.
"And it's all too political for me, the same people who've got us into so many problems saying they'll take us out of them."
Tina Williams was also sceptical.
She said: "Although they gave all the right answers, I just wonder if they realise how bad these communities are because the people who often stand for these jobs don't live in the inner city where most of the deprivation is."
Candidates' promises
Lindy O'Hare was prepared to give the candidates a chance though.
"As long as the voices of the people get brought in, then that person will be successful, and this job will be worth the money. But if that doesn't happen, people will be unhappy," she said.
Linda Fleetham was wary of listening to candidates' promises.
She said: "I did feel they were just telling me what I wanted to hear. I'm disappointed more people didn't stand, and particularly that there isn't a woman to vote for, but hopefully we will get the best person for the job."
The problem of course is that we are all waiting to see what difference a commissioner can make.
The public are generally cynical about whether elected officials can make a difference to people's lives.
And commissioners will have their powers limited. Chief constables will remain in control of day-to-day operations. Money is also tight.
But it will be up to the victorious candidates to show they can match words with actions when they step into office after 15 November.
We may have to wait until the next set of elections in 2016 to find out if police commissioners really can make life better for victims of crime and tougher for the criminals.
* Green candidate Joe Michna was unable to attend the event because of a prior appointment.
A full list of the Cleveland police and crime commissioner candidates is online.