PCC elections: Thames Valley police officer numbers 'challenge'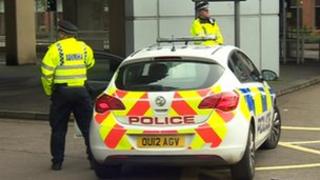 The Thames Valley police and crime commissioner faces a challenge to protect officer numbers, according to the force's police federation.
Chairman Graham Smith believes front-line policing will only be effective if the force's "roots" are protected.
Campaign groups such as Victim Support hope the new commissioner can allow support work to continue.
Nominations have now closed for the police and crime commissioner election on 15 November.
Mr Smith feels the force, which polices three counties, has been "fortunate" to survive cuts imposed so far by central government.
He said: "To be able to do good community policing that people want to see, it's all about safeguarding officer numbers.
"Without doubt, the next Comprehensive Spending Review (CSR) will see further cuts to budgets.
'Hugely important change'
"The real challenge for whoever the new police and crime commissioner will be ensuring the service the force provides continues to be backed up by the numbers available.
"It's going to be a huge challenge for whoever gets the job to handle the demands and priorities across a large force."
Thames Valley Victim Support believes the elections will be an "opportunity for change" and a chance for increased accountability.
Linda Darrall from the group hopes the electorate will use the chance effectively.
She said: "The public need to get out and vote as the police and crime commissioner is something really different. They can make a real difference to the way victims are dealt with.
"They will have a statutory obligation to consult with victims. As they develop their policies, they will need to speak to victims and see how they feel about them.
"That's a hugely important change and one that we welcome."