Dale Farm: Protesters try to storm government building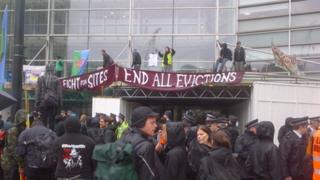 About 120 travellers and protesters have tried to storm a government building in central London.
About a dozen people scaled scaffolding outside the Department for Communities and Local Government (DCLG) building in Victoria at about 14:00 BST.
About five or six people have been arrested by police in connection with the protest.
The protest comes one year after the eviction of travellers who were living illegally at Dale Farm in Essex.
A caged security fence was positioned in front of one entrance to the DCLG headquarters to prevent protesters storming the building.
Officers then formed a line across the main entrance to prevent any intruders.
Scuffles broke about between demonstrators and officers during the protest.
'Homes were broken'
The protest marks one year since the violent scenes during the £7.2m clearance of Dale Farm when travellers and protesters clashed with bailiffs and police.
A Scotland Yard spokesman said an "appropriate" number of officers and resources were deployed to police the protest though would not comment on precise numbers or units.
About five or six people have been arrested, the spokesman said.
Gratton Puxon, of the Gypsy Council, said: "This is one year after Basildon Council organised an eviction at Dale Farm.
"Many people were hurt and 52 homes were broken."
He said the protest was "justified" because the travellers needed to be heard.
Demonstrator Ali Saunders said the protest group included a number of travellers who were evicted from Dale Farm.
She said: "We're experiencing an increase in racism against travellers, both in terms of person and policy."
'Stop unauthorised sites'
A DCLG spokesman said: "The public want to see fair play - with planning rules being upheld and action being taken against those who try to cheat the system.
"The government has already changed the law to tackle abuses of the planning system, and we propose to strengthen the law further to allow councils to stop unauthorised sites as soon as they happen, to prevent future drawn-out cases like Dale Farm.
"The Government is also providing £60m of funding to help support authorised pitches for travellers, supporting law-abiding citizens."