Archive Alive showcases old films from the east and France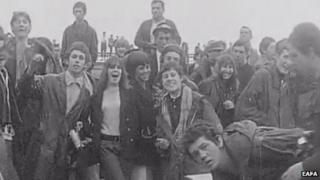 Royal visits, World War II and the battle between mods and rockers are among more than 100 archive films showcased on a new website.
Archive Alive's digitised films from 1896 to 1981 show life in the East of England and northern France.
Project manager Jane Jarvis said: "It's a tremendous mix showing how we lived our lives over the last century."
The footage has been provided by the East Anglian Film Archive and Pôle Image Haute-Normandie.
Ms Jarvis said the website was designed to showcase the catalogues of the two archives and make it easier for students to digest.
'Emotional contrast'
"East Anglia and Normandy have quite a history over the years," she said. "What we both now share is a passion for archiving and curating film.
"In the war, here we've got film of the Home Guard preparing for war.
"It's a fantastic contrast because a lot of the films Rouen have in their archive are of occupied France, so you've got German soldiers in the street and collaborators being arrested after the liberation.
"It's an emotional contrast and a great learning resource."
Everyday life is captured among historical landmarks.
"There's some fantastic films, particularly of Suffolk, so hopefully people will recognise quite a lot of the scenes," said Ms Jarvis.
"We've got trolley buses in Ipswich in 1963, Greene King brewery in 1929, Southwold holidays in the 30s - and it hasn't changed very much by the look of it."