'Extremist' police commissioners could clash with chiefs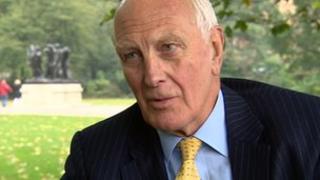 A former chief constable of West Midlands Police has warned "single-issue" or "extremist" politicians could cause problems for chief constables over the direction their forces should take.
Lord Dear said it is vital for the public to get involved in November's police and crime commissioner [PCC] elections.
He said: "The police commissioner can sack the chief constable, so when you get locked horns and the chief constable standing on a matter of principle and saying: 'I'm not going with extremist politics' you could well find him losing his job.
"That's one of the down-sides of the whole system.
"I don't deny the fact that it could go badly wrong either with a dominant chief or with a dominant PCC."
He said that it would work if the two sides respect each other, "don't get in each other's pockets" and perform their roles for the benefit of the public.
Public's policing style
Lord Dear was once described by the political reporter and interviewer Robin Day as the best known and most respected police officer of his generation.
The former chief constable of the West Midlands guided the force through some of its darkest times during the late 1980s.
Now the cross-bench peer says that the public needs to wake up to the importance of these elections.
And because all forces are having to make 20% cuts, choices need to be made about what style of policing the public want.
He said: "The police can't be everywhere any more, that's a factor of economic life and the public have got to be involved in that discussion as to what they really want to keep and the things which they rather regretfully see drop."
Many commentators are predicting the lowest turnout for any election because of apathy and ignorance surrounding the new job of commissioner.
In Birmingham, some sections of the Muslim community are being galvanised to get involved in the issues.
Focus on issues
A meeting held in Small Heath saw most of the candidates attend to answer questions from the mainly Asian audience.
Organised by a group called Engage, the Question Time style event was well attended, people in inner city Birmingham felt the crime commissioner job could be vital on focusing on issues close to their hearts.
Azad Ali, the event organiser, said that in some areas a religious-based vote could be decisive.
He said: "It will be crucial, but the idea isn't to focus on the Muslim vote. The idea is to focus on the electorate but our organisation has specific access to Muslims so that's why our starting point is there but our events are open to all."