North East gets £120m from Regional Growth Fund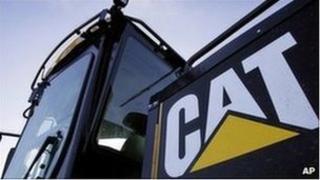 About 25 projects in the north-east of England are to benefit from £120m of funding from the government.
The money, from the government's Regional Growth Fund (RGF), is used to help boost economic growth.
Beneficiaries include the Caterpillar plant in Peterlee, Siemens in Hebburn, Nifco in Eaglescliffe and Sabic in Stockton.
However, Durham Tees Valley Airport failed to secure £5.9m to help revive the site and build a freight operation.
Jobs created
In Newton Aycliffe, about 200 jobs will be created after Ebac, a washing machine manufacturer, was awarded £1m to build a new production facility.
Nifco UK Ltd said it would use the money to build and equip a new manufacturing facility in Eaglescliffe, creating up to 140 new jobs.
Caterpillar will use its grant to increase its production facility at Peterlee. The company's trucks are shipped worldwide for use in the mining and construction industries.
Sabic in Stockton will build a new aromatics plant alongside existing facilities at Wilton, which will see 700 direct staff and 400 contractors employed.
'Acute disappointment'
Durham Tees Valley Airport, which failed in its bid, had hoped to create hundreds of jobs and regenerate Durham Tees Valley.
Robert Hough, chairman of the airport, said: "The directors expressed acute disappointment and will be seeking an explanation for the decision.
"The board also reaffirmed its commitment to pursuing the Southside scheme, which is vital to providing sustainable aviation at the airport."
Bob Cook, Stockton Council leader, said the airport was "an integral part of the Tees Valley economy" and would "support the airport's development and sustainability".