Islamic charity opens women-only homeless hostels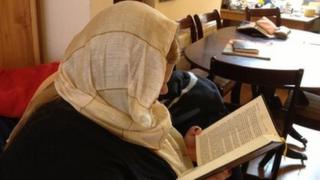 An Islamic charity is to open the UK's first hostels for homeless Muslim women.
There are no official figures on how many Muslim women have been forced to leave their homes, but the National Zakat Foundation (NZF) has seen a demand for temporary shelter that meets religious and cultural needs.
The first of three of the hostels will open in London at the end of October and will cater for 14 women.
The other two will open in Birmingham and in Manchester over the next few months.
Muslim females are expected to follow a strict code of conduct, which includes not mixing with males who are not family members and not entering an environment where alcohol is being consumed.
The temporary accommodation offered by the charity will provide an environment which complies with the Islamic way of life.
Nusrat is now in her early 30s but at the age of 19 she was forced to leave home.
She was disowned by her family for wanting to go to university. She initially stayed in the university's halls of residence but after getting into financial difficulty she ended up on the streets of London.
She said: "I was leading a double life. I'd stay at university for as long as I could during the day and then at night I'd be on the streets pretending to be a tourist. I saw things that I never wanted to see.
Pimp girls
"There was prostitution, people tried to pimp girls. The younger and more innocent you looked, the more they were out to get you."
She said pride stopped her from returning to her family because she wanted to show them that she could be independent.
The hostels which were available to her did not comply with her Muslim faith so living on the streets was the only option.
Mariam, not her real name, is a young Muslim mother who is currently living in a mainstream temporary shelter.
She said she she suffered seven years of physical and mental abuse from her now ex-husband, and finally left him after he tried to attack her with a knife.
"I gave him every chance that I could. I thought if we have a baby things would change but they didn't," she said.
"My family also abused me - my mum used to hit me when I was at home, my brother also beat me when I told them I wanted to divorce my husband. They accused me of ruining my family and them but I would have gone mad if I'd have stayed with him."
She had previously stayed in a mainstream women's hostel but she wasn't comfortable there.
She added: "There was a woman with four young children staying there and some of the girls in the home used to leave drugs lying around, there was music playing and it was really dirty.
"I didn't have any children at the time so I could just stay in my room, but the children were forced to eat off the same table which was used by the girls who had been taking drugs.
"Having a home for Muslim women is a real blessing."
The National Zakat Foundation started to raise funds for temporary accommodation for Muslim women two years ago and has raised more than £500,000.
Iqbal Nasim is the project manager for the charity.
He said: "We know of ladies who have been forced to sleep on park benches in Birmingham. An Afghan woman turned to prostitution, they are desperate.
"The shelters will cost about £150,000 a year to run, so it's vital we have the support of the community."
You can hear more on this story on Asian Network Reportsat 1800 BST today or you can listen back on the BBC iPlayer