Gales and tides cause floods in Lynmouth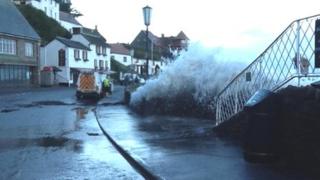 Ten properties have been flooded overnight in Lynmouth in north Devon.
Strong north-westerly winds forced water into the harbour during high tide on Wednesday night, resulting in a mixture of homes and commercial premises being flooded.
In Cornwall, Fowey, Looe and Mevagissey experienced slight tidal floods on Thursday morning.
Polzeath and Port Isaac in Cornwall also experienced minor flooding, the Environment Agency said.
A number of flood warnings are in force.
Trapped cars
Coastal communities were on alert in South West England as strong winds, low pressure and a heavy swell combined with the highest tides of the year.
The Met Office had a yellow "be aware" warning in force until midnight, with gale or severe gale force winds expected and gusts of up to 60mph.
In Lynmouth, as well as the flooded properties, some cars were trapped in water which resulted in the main road becoming impassable for a time, the Environment Agency said.
Drivers had been warned not to try and walk through floodwaters to vehicles, as it could be very dangerous, it added.
The agency said there was a reduced risk of further flooding during Thursday morning's tide because the winds had become more northerly.
Volunteer coastguard Andy Williams said waves were seen crashing over harbour and seafront walls, resulting in water between 18ins (45cm) and 2ft (60cm) deep in some parts.
He said: "It can be powerful enough to bring rocks and boulders on to the road, and you have to make sure people are aware of that, because it could hurt."
Flooding has also been reported in Bideford on the north coast and Exmouth on the south coast.
Looe and Mevagissey both experienced slight tidal flooding on Thursday morning. Water was just above the level of the quay in Mevagissey.
The high water on Thursday came after winds and swells led to properties in Looe and Mevagissey in Cornwall being flooded twice in 24 hours previously.
On Wednesday evening, the sea breached Looe harbour about 19:00 BST, flooding some properties for the second time.
Flood water also came up through drains in the town's main street.
In Mevagissey on Wednesday night, 11 firefighters attended flooding in the Town Square.
Damaged stock had to be cleared out from a number of shops after floodwater swept into low-lying areas at high tide.
Crews assisted with preventing floodwater entering properties, and helped with water removal from some businesses.
In neighbouring Devon, Kingsbridge in Devon was flooded during the same tides.
Managers of the Torpoint Ferry said they managed to keep one ferry running on Wednesday night, even though they had planned to suspend the service due to the tides.
Scillonian ferry services between Penzance and the Isles of Scilly have been reduced because of poor sailing conditions.