First Devon and Cornwall seeks bus pay dispute agreement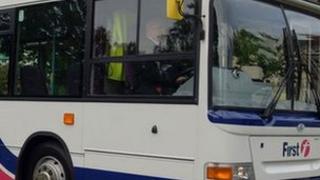 First Group has said it is committed to resolving a pay dispute, following a ballot for industrial action by bus workers in Devon and Cornwall.
The Rail Maritime and Transport (RMT) union said on Tuesday that 85% of its members had voted for strike action.
It accused First of failing to come up with a "serious pay offer".
The company said it believed it had "put a really good offer on the table", but said it wanted to work with the union to reach an agreement.
When the RMT announced the ballot results, First said it would not comment on the vote.
'Feelings running high'
But Chris Bainbridge, First's service delivery director, said the company was committed to reaching an agreement.
"We will do what we need to do to make sure those talks go ahead to find an agreement to ensure both sides get what they need," she said.
"I firmly believe we're on the right track... and I believe we can find a resolution."
First employs a total of 673 people in Devon and Cornwall, including drivers, engineers, managers and casual employees.
Of the 300 who took part in the RMT ballot, 85% voted for strike action, with 92% in favour of action short of a strike.
Ms Bainbridge said she accepted "feelings were running high", but pointed out that less than 50% of employees took part in the ballot.
RMT general secretary Bob Crow has said bus companies are trying to protect profits at the expense of their staff and the travelling public.