Fuel duty campaign launched by Robert Halfon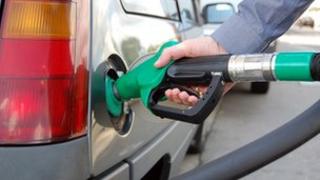 It's autumn, the party conference season is over and it's time for the MP for Harlow to launch another campaign over fuel duty.
To be fair to Robert Halfon he has been very successful so far.
His previous campaigns have twice forced the government to freeze duty on fuel and once to cut it.
This week in the House of Commons he appealed for the next increase - due in January - to be postponed again.
But he also went further, unveiling a new bill which he believes would shame governments and the petrol companies into keeping down future prices.
The Vehicle Fuel Receipts (Transparency of Taxation) Bill would, if it became law, force garages to give us a breakdown of what we're paying when we buy petrol or diesel.
Transparency on duty
"This is a simple bill that does what it says on the tin," Mr Halfon told MPs.
"It would give us transparency on fuel duty. It would make the system more honest, act as a deterrent against tax rises, and add pressure on the oil companies to be fair."
Under his idea, which is supported by a 15,000 signature petition, we would be told how much of our bill is tax, how much goes to the oil company, the retailer and how much is actually spent on road building and maintenance.
So on a £60 bill, for instance, we would learn that the fuel cost £25 (of which the retailer only gets around £2), duty made up £25, VAT £10 and the amount of that bill spent on roads would be approximately £7.
"Taxes should be clear to the people who pay them. At the moment, they are not," said Mr Halfon.
"The average family in my constituency spends a tenth of their income on fuel - more than they spend on the weekly shop.
"In essence, they are facing petrol and diesel poverty, and morally they have a right to know why their bills are so high."
'Wake up call'
The bill has been welcomed by motoring groups.
"This initiative will serve as a real wake up call to all users of road fuels," says the Road Haulage Association.
"It will make road users far more aware of just where their money is going."
It's also widely supported by other MPs from our region who believe that if we could see how much we are paying for fuel, we could tell if the oil companies are passing on reductions in the price of fuel.
"Despite the Chancellor freezing fuel duty the price keeps going up, the oil companies and hedge funds seem to be almost rigging the market and we need to get some transparency," says Stephen McPartland, the MP for Stevenage.
Because this is only a 10 minute rule bill it doesn't stand much chance of getting onto the statute books.
But Mr Halfon points out that the government has a good record of adopting backbench bills, not least the one from Ben Gummer (Ipswich) which will give us all a breakdown on our tax returns telling us what our taxes are spent on.
Mr Halfon believes his bill extends the principle further.
'White van' Conservatism
The official line from the Treasury is that it believes in transparency when it comes to the personal tax system.
But when it comes to selling fuel, it is a commercial decision for retailers to decide what information to put on receipts.
It is also possible, we suspect, that ministers and their officials would be happier if we weren't reminded how much money government is taking in tax every time we fill up.
But Mr Halfon will not be deterred.
He's described his bill as a small step towards the kind of 'white van' Conservatism that the Prime Minister has been talking about.
And it is an idea which would go down very well with white van man in Essex.
The question is will anyone in the Treasury be brave enough to take it up?