Lapwing decline is investigated in five counties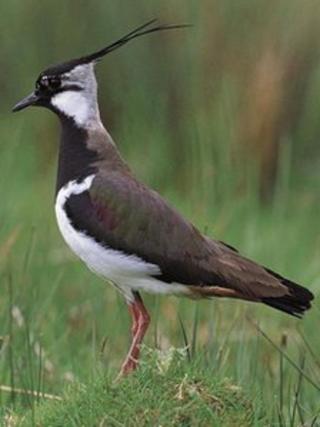 Scientists have been investigating why the lapwing is still in decline in five of the south's counties despite efforts to protect the bird's habitats.
The Game & Wildlife Conservation Trust (GWCT) has announced it is studying 120 arable sites in Hampshire, Dorset, Wiltshire, Cambridgeshire and Norfolk in conjunction with the RSPB.
Findings will be passed on to the government to help guide conservation.
The GWCT said the number of lapwings had halved in the last 30 years.
Dr Andrew Hoodless, a wader scientist with GWCT, said: "Lapwings are very adaptable birds and because they nest on wet grassland, upland moors or arable land they should be doing quite well, but they are not.
"We know that the problem is not over-winter survival, but that the lapwings are simply not fledging sufficient chicks each year to maintain a stable population."
The project will continue in 2013 when the scientists will be radio-tracking lapwing chicks to try to find out what happens to them once they leave the nest.
Radio-tracking
Farmers are paid by the government to leave bare patches of soil within cultivated winter cereal of oilseed rape fields.
However the GWCT said research in 2010 and 2011 showed the plots were not doing enough to halt the decline.
Dr Hoodless said: "Farmers are paid to maintain the plots under agri-environment schemes and we therefore need to be sure that this is money well spent.
"To do this our research aims to quantify how many chicks are fledging each year and whether the fallow plots are either maintaining stable populations or increasing lapwing numbers."
The project is funded by the Department of the Environment Food and Rural Affairs (Defra) and Natural England.