Stephen Farrow murder trial: Accused sent 'Church will suffer' text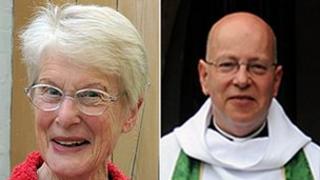 A man accused of the murder of a vicar and a retired teacher texted a friend the message "the Church will be the first to suffer", a court has heard.
Stephen Farrow denies murdering Betty Yates, 77, and the Rev John Suddards but admits the latter's manslaughter.
Mr Suddards, 59, was found dead at his vicarage in Thornbury, near Bristol, in February. Mrs Yates was found dead at her home in Worcestershire in January.
Farrow texted Michaela Rowsell on New Year's Day, the jury heard.
He warned her to watch the news and told her she "never knew just how disturbed I am".
Mrs Rowsell told Bristol Crown Court that she was "petrified" after receiving the message and phoned the police.
'Aggressive and assertive'
She told jurors she had met Farrow in spring 2011 when she was helping out the homeless at an evangelical church in Bridport, Dorset.
Mrs Rowsell told the court she had seen Farrow be violent towards other homeless men and suffered mood swings.
Asked about Farrow's attitude to the Church, Mrs Rowsell said it was "pretty disgusting really. I would say he uses and abuses them".
The court also heard evidence from the Rev Canon Andrew Evans, the vicar of St Mary's Church in Bridport.
He said Farrow would often become "aggressive and assertive" in his attitude towards the Church and could not understand why any church would not give him money.
Mr Evans said on one occasion he felt threatened by Farrow.
He said: "This was when his benefits had been stopped and he had hoped to get some money to put a £100 deposit down on a flat in Lyme Regis.
"He asked for the £100 for the flat. He asked on several occasions and each time more assertively."
Farrow was not present in court having refused to leave Long Lartin prison in Worcestershire where he is being held.
The trial continues.