Suffolk Fire Service full-time posts cut in Felixstowe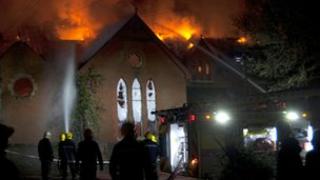 The number of full-time firefighters is being cut in a Suffolk town for the second year.
Suffolk County Council has voted to reduce the number of full-time posts in Felixstowe from eight to four, following a cut from 12 a year ago.
The Conservative-run council has agreed to a 12% cut to the fire service's £22.5m annual budget over four years.
The long-term policy is to see if Felixstowe can be run with on-call firefighters only.
The first phase of the cuts took place in August 2011, when Felixstowe went from having a seven-day full-time fire station to a five-day model with fewer full-time firefighters.
Following a review of those reductions, the council has decided to introduce the second phase of cuts which it said will save £140,000 a year.
The final phase, where Felixstowe becomes on-call only, could be introduced in 2014-15.
The local authority has also voted to press ahead with examining the business case for full merger or more collaboration with Cambridgeshire Fire Service, which is also facing a similar level of cuts to its £29m annual budget.
A public consultation on the proposals will run from 22 October 2011 until 14 January 2013.
The merger proposals will be looked at again by the Suffolk County Council's scrutiny committee in December, with a final decision to be taken in February.