Euro MP Andrew Brons 'no longer' BNP member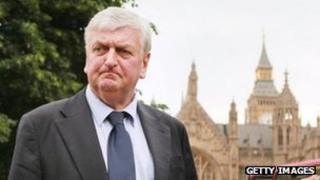 Andrew Brons, one of the British National Party's two MEPs is no longer a party member, according to a statement on his website.
Mr Brons, an MEP for Yorkshire and the Humber, said he considered himself to have been "expelled in all but name".
He became the party's first MEP when he won a seat in Yorkshire and the Humber in 2009 with 10% of the vote.
Mr Brons said he would continue to "promote the policies on which I was elected" in the European Parliament.
In the statement, he said: "Over the last 16 or 18 months I have been marginalised to such an extent, in what is left of the British National Party, that I have been expelled in all but name.
"Employment law recognises a concept of constructive dismissal which means that the employee cannot be expected to remain in employment and can regard his or her employment at an end.
"My position in the rump of the BNP is analogous to that of an employee who has been constructively dismissed."
Mr Brons, a former college lecturer, lost an election in July 2011 to be leader of the British National Party when Nick Griffin was re-elected.
The BNP has so far not been available for comment.