Surrey County Council rejects airport expansion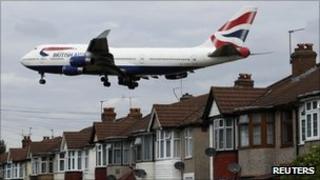 Plans to build more runways at Heathrow and Gatwick airports have been rejected by Surrey County Council amid concerns about the impact on the environment.
The Conservative-led body also opposed more traffic at other Surrey airports due to the adverse impact on residents.
It will write to the transport secretary to say it is against airport expansion.
The government began a review last month of how the UK might expand capacity in the South East.
'Precious countryside'
In a statement after a council meeting on Tuesday, Lib Dem county councillor Ian Beardsmore said: "The airports surrounding Surrey are essential for the Surrey economy.
"Many of my own residents in Sunbury Common and Ashford Common are reliant on the airport for their employment.
"But the airports have reached their limit. Alternatives must be found if there is to be any increase in UK airport capacity."
Opposition leader Hazel Watson said increased capacity at Gatwick would lead to the loss of "precious countryside" and "irreplaceable historic buildings".
Council leader David Hodge said it opposed any plans to build additional runways "out of line with the existing county council policy".
He pointed out that the council had a policy agreed in March 2008 opposing expansion unless there was "comprehensive and creditable investment" satisfactorily addressing environmental issues.
The council agreed to write to Transport Secretary Patrick McLoughlin to request alternatives to expansion in the South East.
Both the Conservatives and Liberal Democrats ruled out a third runway at Heathrow in their 2010 general election manifestos and the coalition agreement continued this commitment.
But some MPs argue that increased airport capacity is needed to help bring the UK out of recession.
London Mayor Boris Johnson, who favours building a new airport east of London, has accused the government of "pussyfooting around" on airport expansion.