Justin Lee Collins should have been jailed, says ex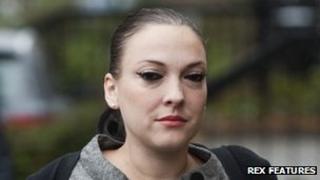 The ex-girlfriend of TV presenter and comedian Justin Lee Collins has told BBC Radio 5 live he should have been jailed for his "campaign of abuse" against her.
Anna Larke was verbally and physically attacked by the presenter, who kept a dossier of her past sexual experiences, made her sleep facing him and called her a "whore" and "slag".
Collins, 38, of Kew, south-west London, was sentenced to 140 hours of unpaid work after being convicted of harassment causing fear of violence at St Albans Crown Court last week.
'Domestic violence course'
Collins, who denied the charge, had accused Ms Larke of being compulsive liar, and said in a statement after the verdict that he would never accept he was an abuser.
Ms Larke said Collins - whose crime carries a maximum sentence of five years' imprisonment - should have received a harsher punishment.
"For what he did to me, the sentence does not fit the crime," she told Victoria Derbyshire.
"I think he should have had at least a couple of weeks custodial, so he could sit in his cell to really think about why he's there and what he did.
"He should have been made to go on a domestic violence course so he could work out why he has this problem."
She said there were moments during their first affair in 2007 that she realised Collins's behaviour was odd.
"His texts became a little bit strange. He said 'who in the public eye do you really fancy?'
"I said Wentworth Miller, from [the TV show] Prison Break.
"He said something like 'I don't respect girls who like men like Wentworth Miller.'
"That was the first inkling... I call it the 'Miller's Crossing'... something was really not right."
'Hell to pay'
The PR worker, of Pirton, Hertfordshire, met the married Collins when he compered an awards night.
They later chatted on social networks, with Collins inviting her in June 2007 to the filming of his Channel 4 show, The Friday Night Project.
She said after the show, he witnessed a minor misunderstanding, "looked at me as if he hated me" and called her a word she "could not repeat" on air.
After two weeks without contact, Collins became "flirty" again, she said, but "more possessive".
"If he sent me a text I had to reply within five minutes, if I didn't there was hell to pay - there's no way you could repeat the words.
"He used to make me change my phone number. He didn't want other people to have it.
"He said to me he had to be the centre of my universe, that he came before my work, my family and friends and everything - he wanted to be worshipped.
"At that point I was in love with him, so I did it."
The affair ended in 2008, but he contacted her again in November 2010 and the pair began a "lovely" relationship.
But she said "alarm bells were ringing" in December when Collins suggested she take time off work and then look for a different job.
'Really scary'
Collins also wanted to know more about her previous relationships, she said.
"He said to me, 'I want to know the people you have been with, I want to know every detail, I want you to tell me about it as if I was one of the girls'."
Asked why she told him the details for him to write in the notepad, she said Collins was "the love of my life".
"My mum said to me 'don't do it, tell him to get lost and just come back home'. My brother said it was bad signs and I shouldn't do it."
Shortly before she left Collins in July 2011, after nine months of abuse, Ms Larke recorded him calling her a "whore" and a "slag". It was played to the jury during his trial.
"It was really scary and it makes me really glad that I'm not in that situation anymore. It's quite chilling, I hate it.
"I was a 37 year old moving back to her parents. I said to myself 'It's going to be horrible, you'll go crazy and you need to remind yourself why you left.'
"I wasn't planning his downfall, it was purely for me."