Wiltshire's Long Knoll to become 'breast-shaped illumination'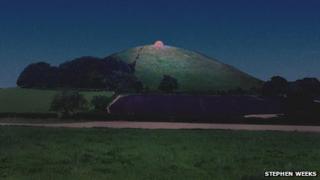 A Wiltshire hill is to be transformed into a giant illuminated breast to mark Breast Cancer Awareness Month.
Bruce Munro, a Wiltshire-based light artist, is installing a glowing 5m (16ft) by 3m (10ft) dome on the top of Long Knoll in Kilmington.
The installation, called Beacon On The Hill, will be made up of 2,730 plastic bottles laced with metres of pink and blue fibre optics.
Due to be lit on 24 November, it should be visible for miles around.
Over the past few years a 10-acre field nearby has been a contemporary art space for Mr Munro.
In 2005 he created Field of Light, a waving crop of light-changing fibre optic "desert flowers" on the outskirts of the village.
'Logistical challenge'
And three years ago, he installed an inland sea of almost a million discarded CDs in the same field.
Now he has teamed up with UK breast cancer charity Cancerkin to transform the chalk hill itself into a "breast-shaped illumination".
"It's a huge physical and logistical challenge," he said.
"It will take a week for a team of five, working in all weathers, to construct this one-off installation."
Created bottle by bottle at the top of the 288m (945ft) high chalk hill, Mr Munro is hoping his beacon "will be seen for miles".
"This hill and surrounding countryside has long been my canvas," he said.
"And I lost a dear friend very young to breast cancer and meeting Victoria Todd from Cancerkin was the link needed for me to create my own incarnation of a beacon of light in support of all who are, or have been, affected by this disease.
"By illuminating the night sky for a brief moment, I hope to send the message you are not alone."
Cancerkin is also inviting people to sponsor one of the 2,730 bottles which will be lit up in the pink and blue colours of the charity.
Ms Todd, its chief executive, said: "This is a special event which we hope will draw attention to the issue of breast cancer in a remarkable way; by sponsoring a bottle, anyone can show their support no matter what their connection to the issue."