'One in 17' speed cameras digital in East Midlands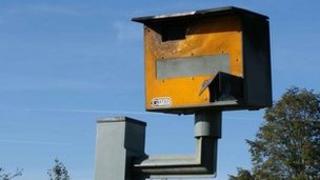 Only about one in 17 speed cameras in the East Midlands is digital, according to new figures.
Campaigners say increasing digital camera numbers will help reduce crashes as they are more reliable than those using standard film.
Currently, 258 cameras use photographic film with just 16 digital, which operate for longer.
Safety partnerships in the region responded to a survey by Road Safety Support.
According to the figures, which were commissioned by the Association of Chief Police Officers, Derby and Derbyshire has no digital but 113 standard, or "wet film", operated units.
The county's road safety partnership is not planning to upgrade in the next 12 months.
A spokesperson for Derby and Derbyshire Road Safety Partnership said: "We recognise that digital cameras can deliver long-term efficiency savings but installing them is expensive.
"We're currently reviewing the types of cameras we use and exploring the costs involved in switching to digital."
'Devastating crashes'
Lincolnshire currently has no digital speed cameras but plans to have 15 in the next 12 months. It has 52 wet film cameras.
John Siddle, of Lincolnshire Road Safety Partnership, said: "The process [of digitisation] has been slow because of the procurement and tendering process we go through to spend, what is after all, public money."
Leicestershire has only one digital speed camera and 32 devices that require film to be changed and developed.
Jonathan Clarkson, from the Leicestershire and Rutland Road Safety Partnership, said the group was finding its wet film cameras were still reliable for speed enforcement in its area.
Nottinghamshire has 62 wet film cameras and plan to add one more digital camera to the 15 it already has.
A spokesperson for Nottinghamshire Safety Camera Partnership said whenever new cameras are installed they are always digital.
Nick Batty, of road safety group Brake, said more speed cameras should be transferred to digital but recognised budget cuts had reduced authorities' ability to update their technology.
"Speed cameras are proven to be effective in reducing devastating crashes and casualties," he explained.
"We would therefore urge the government to fund road safety partnerships so that they can invest in the most effective enforcement technology."
Road Safety Minister Stephen Hammond said: "It is up to local authorities, working with their local communities, to decide their spending priorities and to set their budgets accordingly.
"However, we would expect road safety to be a priority for local communities and for local spending to reflect this."