Mary Unwin: Hope fades for lone yachtswoman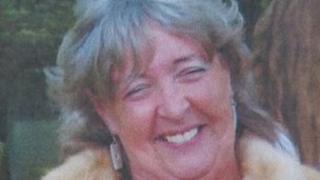 Rescue crews searching for missing yacht skipper Mary Unwin admit the chances of finding her alive are slim.
The wreckage of the yacht Seagair was discovered on Monday afternoon near Sennen Cove, west Cornwall, three days after Mrs Unwin, 65, was last seen.
Mother-of-four Mrs Unwin and her husband Carol, from Northam in north Devon, had only just re-married after getting divorced about a year ago.
Coastguards resumed a search on Tuesday morning, before scaling it back later.
Trip warning
A Falmouth Coastguard spokesman said: "It is approaching 24 hours since the wreckage of the vessel, believed to be the Seagair, was first discovered. For someone to have survived overnight would be something close to a miracle.
"Mrs Unwin is still a missing person."
Mrs Unwin bought the £32,000 yacht in Falmouth and was accompanied by her husband.
She left Falmouth in the yacht on Friday despite being advised by the sellers Falmouth Yacht Brokers not to make the trip on her own and without collecting the paperwork.
On Saturday she left Mousehole at about 18:30 BST to sail to Bideford in north Devon.
Coastguards and the police confirmed the wreckage of a vessel found near Sennen was the Seagair.
Jerry Hobkirk, owner of Falmouth Yacht Brokers, said he would not have let Ms Unwin sail had he known she would have ignored his pleas not to set off until the weather had subsided.
He also said Ms Unwin was advised to embark on a sailing refresher course before taking to the water, something the missing woman also appears to have ignored.
Mr Hobkirk said the 130-mile journey from Mousehole to Bideford would have tested even experienced sailors, let alone in difficult conditions.
He added: "I was amazed when I found out that she had set sail. If I had known, we would have stopped her.
"There were strong winds and rough seas on a piece of coast that has very few escape routes. If you get into difficulties there aren't very many ports to play your 'get out of jail' card with."
Helicopter crews from RNAS Culdrose and RMV Chivenor were also called to help with the search and rescue mission.
Mr Unwin denied his wife was an inexperienced sailor.
He told the BBC: "Before she embarked on the trip she had an expert sailor with her, just to brush up on what she knew.
"He and she were confident about the whole exercise."
Coastguards said that pieces of debris had been washed up in Sennen Cove in Cornwall, but added they had not formally identified them as being part of the missing yacht.