Harlow fire deaths: Three-year-old 'still critical'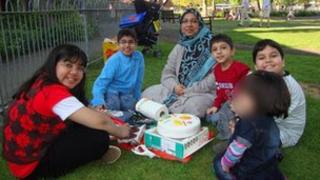 A three-year-old girl remains in a critical condition and her father "very poorly" after an Essex house fire that killed four children and their mother.
Sabah Usmani, a doctor, and her sons Sohaib, 11, and Rayyan, six, and daughter Hira, 13, died at their end-of-terrace home in Harlow on Monday.
A third son, Muneeb, nine, and daughter Maheen, three, were rescued and taken to hospital, where Muneeb later died.
Essex Police said the fire was being treated as suspicious.
Flowers and cards have been laid outside the police cordon at Barn Mead where the fire took place.
Tributes included one from neighbours, which read: "A beautiful family wrecked by fire. Our heartfelt sympathy goes out to the remaining family. I will miss your smiling faces at school."
'Fought hard'
Another card had been drawn by a child with the caption: "Playing in the playground".
On Monday night the children's father, Dr Abdul Shakoor, who had suffered severe smoke inhalation, was transferred from the Princess Alexandra Hospital to Broomfield Hospital in Chelmsford to be close to his only surviving daughter.
It is understood he was inside the house when the blaze started but had escaped by the time firefighters arrived.
Police said he "fought hard" to save his family.
A book of condolence has been opened up at the Princess Alexandra's Hospital for people to pay their respects to the family.
Melanie Walker, the hospital's chief executive, said Dr Shakoor, a medical registrar with a special interest in diabetes, was a "very popular and well-respected colleague".
She said his popularity had made it even more difficult for those who were caring for him.
"We have extra support for staff and places for them to go," she said.
"It's a terrible tragedy. People are shocked," she added.
Pupils and staff at Abbotsweld Primary School, in Harlow, where Sohaib, Rayyan and Muneeb attended, are being given support from specialist officers at Essex County Council.
Head teacher Lesley Lynn said: "Everyone at the school is distraught to learn of the horrible tragedy that has hit the Shakoor family."
She said Sohaib, Rayyan and Muneeb were "intelligent and sociable" children with a "great sense of humour".
They were "good at sports and much-loved by everyone", she added.
Maureen Charlton, a neighbour of the family who has lived in the area since 1975, said Dr Shakoor was highly regarded.
"People are crying here, like me," she said.
"We just feel heartache for the family. I can't believe that this has happened."
'Nothing ruled out'
Essex Fire and Rescue Service said the blaze, which started downstairs while the family were asleep upstairs, had spread quickly, suggesting some kind of fuel could have been used.
A car was also found alight a short distance from the house. Firefighters said the Ford Focus was not linked to the family but added the proximity of the blazes was "beyond coincidence".
Ch Supt Luke Collison said there was "nothing to suggest we are dealing with a serial arsonist".
"We have reviewed cases of arson in the area and they are entirely different," he said.
Several lines of inquiry are being examined, including whether the family were the unintended victims of the attack.
"All I would say is nothing is being ruled in, nothing is being ruled out," said Mr Collison.
He said the exact cause of the fire remained unclear and forensic tests were continuing at the scene.
However, he said they did not believe the motive to be racial.