Farmers spot Warwick Castle eagle Stanley near Daventry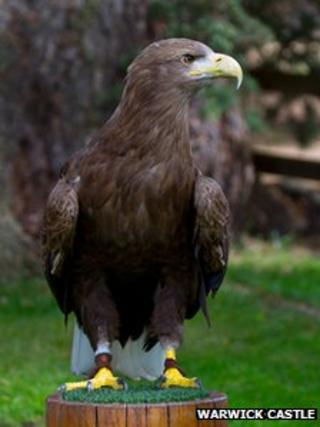 Attempts to recapture an eagle which went missing from Warwick Castle are continuing after he was seen again in Northamptonshire.
Farmers have contacted trainer Chris O'Donnell after spotting Stanley, a white-tailed eagle, between Badby and Preston Capes, south of Daventry.
On Thursday he saw the bird in a tree, but it spurned his offer of a rabbit.
Mr O'Donnell is confident the bird is still in the area after another sighting on Sunday.
He said Stanley is easy to spot in the air due to his 6ft (1.8m) wingspan.
"But when stationary, sitting in a tree, you wouldn't notice and that is a problem," he added.
"Once the leaves come off the trees he should be easier to see."
Dead sheep
Mr O'Donnell's first failed attempt to recapture Stanley was in Preston Capes in the county on 9 October.
Then on Thursday the 10-year-old bird was seen by a farmer eating a dead sheep.
Mr O'Donnell said: "I tried luring him down with some food but he'd already eaten so much of the sheep he wasn't interested in the rabbit I was offering."
He believed Stanley had chosen the area because "there are four or five really nice big hills and that's where eagles live on rising currents of air".
In the wild white-tailed eagles are scavengers who live in coastal regions, eating washed-up fish and dead seals.
Mr O'Donnell said: "Once the food runs out he's going to be seeing tough times.
"He's been photographed on the road eating a dead rabbit and it's an incredibly fast road, he was lucky not to be struck."
Stanley escaped from Warwick Castle during a display on 6 September.